I wrote this poem, to express how I felt each time I waited for results, during and post breast cancer.
So you're led into this space,
And they tell you there to wait,
And your mind's completely numb,
So you dare not hesitate.
And you gaze around the room,
And then it dawns on you,
"I guess that they're all players,"
And they're just waiting too.
So you look into their faces,
Just to see who's really there.
Can't see past the masks,
That they have learnt to wear.
But I can read them now,
'Cause they're as plain as day,
They're all armoured up,
And they're ready for the play.
I can see "Think positively,"
She flashes me a smile,
But it's tainted with that nervous look,
That haunts me for a while.
And then there's "Zone Out,"
With his headphones on his ears.
Although he's present in the room,
The music soothes his fears.
Just then I spot "Exhausted,"
His mask is oh so clear.
Those eyes are grey and lifeless
And they've even surpassed fear.
My thoughts are interrupted,
By the calling of a name,
A player stands abruptly,
He's about to face the game.
And then it dawns upon me,
I've been waiting for this day
In this never ending count down,
Am I ready for the play?
Acrylic on paper, A3
FEATURED IN "ACRYLIC PAINTING GROUP," 3rd July, 2011. size.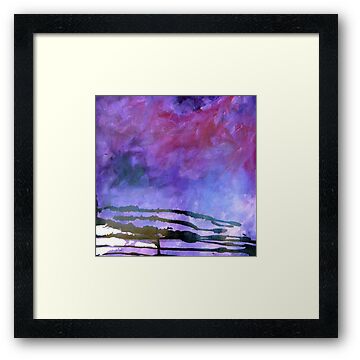 WINNER OF "THE GOLD COAST CREATIVE GROUP'S-SOMETHING NEW CHALLENGE." 23rd July, 2011.
WINNER OF "A FASCINATING PURPLE GROUP'S BREAST CANCER AWARENESS GROUP CHALLENGE," September, 2012.
FEATURED IN "IMAGE AND WRITING," September, 2012.
FEATURED IN "A FASCINATING PURPLE GROUP," April 2013.