FEATURED IN "SETS OF 2"
FEATURED IN "COLLAGE WITH TRADITIONAL MEDIUMS"
FEATURED IN "DISINTEGRATION COLLABORATION"
FEATURED IN "ARTIST'S WORKSPACES, STUDIOS, & TOOLS"
Created as part of the Disintegration Collaboration it is both a finished work and an ever changing work in progress.
Photoraphed with a Kodak Z981
Items on The Art Line include either in part or in whole:
Photographs
Photo Paper
Various Forms of Junk Mail
Magazine Pages
Art Paper
Cardboard
Metal Objects
Botanicals
Fabric
And whatever I happen to have around to play with!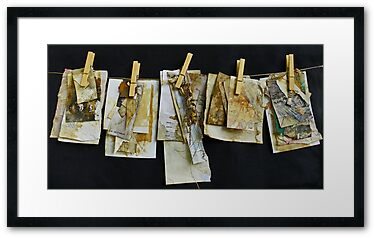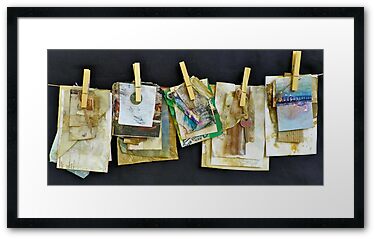 All items have been left out to weather and some have been painted, soaked in coffee/coffee grounds, soaked in tea/used tea bags, sprayed with various solutions such as lemon juice, bleach & water, vinegar, salt water, and/or anything else I think might create an interesting effect.