Berthoud, Colorado 6-6-10
Western Meadowlark – Sturnella neglecta
Across Colorado's grasslands, farmland and open country in spring and summer, the bright and cheery voice of the meadowlark dances like notes from some happy flute. The meadowlark has a distinctive flight pattern — a short, fluttering burst followed by a glide — with short wings, neck, and tail and distinguishing white edges to the tail.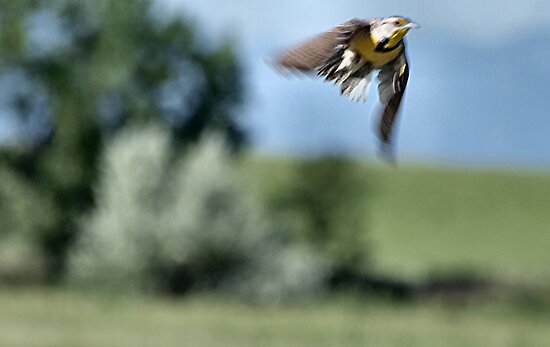 Colorado's old-timers describe the Western Meadowlark's song as calling Gee-whiz-whilli-kers; Oh, yes, I am a pretty little bird. He seeks a perch atop a fence post or tall weed, throws back his head to expose the bold black chevron on this yellow breast, opens wide his bill, and begins to sing.