Estes Park, Colorado May 16, 2010
Steller's Jay – Cyanocitta stelleri
392 views as of August, 2011
The highlight of my trip to Estes Park this afternoon was being able to see this beautiful Steller's Jay – Cyanocitta stelleri. They are scarce within Denver and in all the lowland cities. The Steller's Jay is present throughout the year only in coniferous forests. With a crest unmatched by any other North American songbird and delicate blue hues sparkling in its plumage, this bird is as striking as it is extroverted and mischievous. It is less known to most Americans than the familiar Blue Jay, and eastern birdwatchers often visit Colorado to sight one.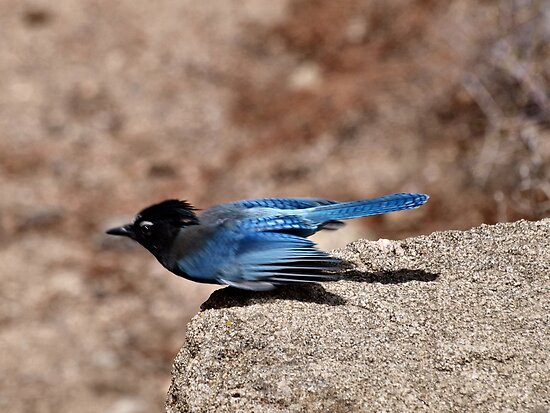 He is considered the bold and handsome mountain jay, with its perky pointed crest, the Welcome Wagon bird of the Colorado Rockies. Anyone who visits the high country forest, particularly with picnic basket in hand, soon makes the acquaintance of the Steller's Jay. Though often announcing themselves with a loud shak shak shak call, they are quite secretive near their nests.
Steller's Jays favor Ponderosa pine and Douglas-fir forests, also inhabitating pinon-juniper and lodgepole pine. In winter they show up at lower elevation foothill feeders. I have never seen one here in the foothills.
Larger than a robin; sexes similar; dark crest; blue back, wings and tail; white specks on forehead. Size 11 inches.
No edits
Olympus E-520 Zuiko Lens 70 – 300MM
Olympus E-520 – Zuiko lens 70 – 300
f/6.3, 1/250 sec, ISO 200, 300mm,
max ap 4, pattern, no flash, auto
Featured in 'The World As We See It , or as we missed it.'
May 22, 2010

Featured May 31, 2010

Featured June 2, 2010

Featured June 6, 2010