FEATURED IN NORTHERN CALIFORNIA STYLE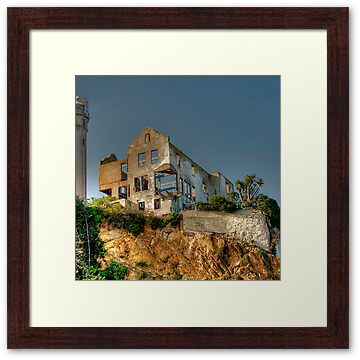 Alcatraz is best known as "the Rock" – a prison where the worst of the worst were incarcerated. However, the island is also the site of the first California lighthouse.
The original structure was a California cottage – a two-story structure with a tower in the center. The fifty-foot lighthouse was painted white with black trim and a back lantern room. The fixed third-order lens did not arrive until October 1853. Budget problems delayed installation until 1854.
A fog bell was added in 1856, when it was clear that San Francisco's now well-known fog often rendered the light ineffective. The original bell had to be rung by hand – quite a task considering the density of fog in the area. Later fog bells had a clockwork mechanism which would automatically ring the bell at prescribed intervals. As the city of San Francisco grew, a new flashing fourth-order lens was installed, to aid mariners in distinguishing it from city lights.
On April 18, 1906, the San Francisco earthquake rattled the lighthouse. The lighthouse tower was cracked, and one of the chimneys tumbled down.
Work on a new lighthouse began in 1909. The new tower was eighty-four feet tall. Electricity powered the light and the fog sirens at the north and south ends of the island.
Due to the high cost of maintaining a prison on an island, the government closed the prison in 1963. In November 1963, the lighthouse was automated. The lens was removed, and a reflecting light installed.
The historic site was saved from the wrecking ball in 1972, when Alcatraz was made a part of the newly-formed Golden Gate National Recreational Area, and administered by the National Parks Service.
Today, a 200,000 candlepower optic shines from the 1909 tower. The island is a popular tourist attraction. The fourth-order Fresnel lens is on display in the island museum. Much of the island has been reclaimed by nature.
In 2004, the lighthouse celebrated its 150th anniversary. Visitors were given the rare opportunity to climb to the top, which is normally not open to the public.
Nikon D90
Nikkor 18-200 lens
HDR Photomatix Pro