From another Wedding shoot.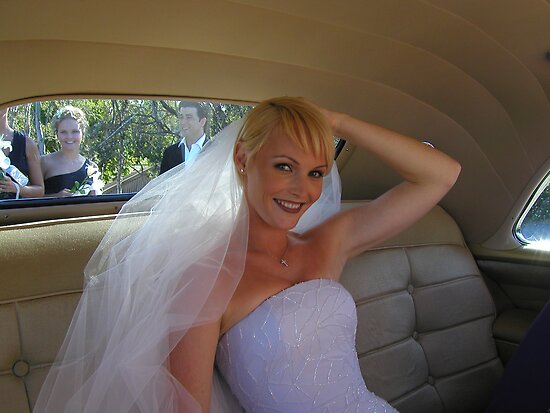 Original digital image by my Assistant – Kiah.
Post Production by Byron.
---
Funny story about this shot…
The Bridal Party had just arrived in this gorgeous 1960's hot rod and I saw this opportunity for this style of photo.
Unfortuneatly my Assistant Photographer had the same idea and leapt into the front seat before I could get to the car.
I hate it when my Assistant Photographer gets better shots than me. Its a good thing she is my sister!
---
THE PROCESS…
Remove skin blemishes and lines by using the Cloning Tool.
Remove guests from the background by using the Cloning Tool.
Clean-up the whites of the eyes by using the Burn/Dodge Tool.
Add slight Caramel tint to the coloured part of the eyes.
Increase size of highlights in the eyes.
Brighten the teeth by using the Burn/Dodge Tool.
Brighten the lips by using the Burn/Dodge Tool.
Adjust Levels to create a "warmer" colour and to reduce the effects of some bad sun-burn.
Add selective soft-focus.
Cloned from the available areas of tree and bush in the original image over the top of the people.
hard clone of about 80% opacity then a soft clone of about 30% opacity. It was still obvious (to me anyway) that it was a messy bit of cloning because of all the repetition due to such a small area being available to clone.
added a soft blur to that area, and then added an overall blur with a small clear non-blurred area in the centre (done in Picasa).