Portraiture 101 - Introduction to Portrait Photography
This is the new Coaching Session Tutorial from the Photography Critique & Advice Group, written by myself and Zane Paxton
If you are interested in participating this or any other personalised 1-on-1 Coaching Session, drop on by and join us at the PC&A Group now!

PORTRAITURE 101: INTRODUCTION TO PORTRAIT PHOTOGRAPHY

INTRODUCTION
This is the Introduction to Portrait Photography. This Tutorial will cover the very basic concepts of Portrait Photography.
Further Tutorials in this series will cover the following subjects:
PORTRAITURE 102: Making your Subject look their best … Hair, Make-up, and clothing.
PORTRAITURE 103: Lighting Systems – Natural vs Studio.
PORTRAITURE 104: How to illuminate your Subject.
PORTRAITURE 105: Creating Different "Looks" with your Model / Advanced Creative Storytelling
PORTRAITURE 106: Tips on working with Models.

Portraiture is an artform that fascinates and intrigues us on a very deep and personal level. It is quite possibly the most sought after and desired of all the artforms. In the photographic medium, portraiture has been around since the very earliest days, and of course it has been a popular style for hundreds of years before that with painters, and before that – it goes back to crude drawings on the walls of caves.
We crave looking at faces, but why is it that we are so drawn to the faces of other people? … There are several possible explanations…
The first explanation is that, as a species, we are pre-programmed to recognise and respond to another person's face. Studies have shown that infants that are only a few days old are able to recognise and respond to human faces, when they are unable to do so to other visual stimuli. It is in our very nature to seek out faces.
Another possible reason for our love of portraiture is that it allows the viewer to engage with the subject in a very intimate and personal way, which would not be socially acceptable in real life. No person would feel comfortable with someone else being six inches from their face studying every little detail of their face. There is some voyueristic fascination in being able to be this close to another human face and not feel socially uncomfortable at the same time.
Finally, portraiture captures forever the fleeting moment of expression and emotion, enabling the viewer to study it and ponder the story behind it. In real life these expressions and emotion would be gone in an instant and we may never see them again. With a portrait, we can return again and again to relive that feeling, that emotion of the moment.

PORTRAITURE – THE THREE BASIC STYLES.
In this Introduction to Portraiture Photography I am going to cover the three basic styles:
Close-up
Torso & Full Body
Environmental
The essential differences between these three styles is encompassed in one word: DISTANCE.
With the transition from one style to the next, as a photographer, you are taking a step back, getting further away from your Subject. With each step back you lose detail, but gain a broader view. With the "Close-Up Portrait" you let the fine detail of your Subject's face tell the story and define your Subject, with the "Environmental Portrait" you have the exact opposite – no fine detail, and the environment now tells the story and defines your Subject. While the Subject remains the same… your technique as a photographer must change.
The "Close-Up Portrait", as the name implies, is the most personal and intimate form of portraiture. We are so close that we can see every line, every wrinkle, every pore of the Subject's face. We can stare into their eyes, and feel that we are looking into their very soul.
With this style, the key feature is the Subject's eyes. We are naturally drawn to another person's eyes when we look at their face. For most of us it is considered rude or impolite not to look at someone's eyes when we engage with them, but beyond that – we feel that we are seeing the real person inside when we look into their eyes.
It would not be an understatement to say that the eyes are probably the single most attractive and magnetic feature in a portrait, and those eyes are never so powerful as when they look directly at the viewer. We, the viewers, respond to this direct engagement like deer in headlights. We can't look away, we feel drawn in and completely fascinated. The subtlety of muscular control around the eyes allows for more intimate communication of emotion than any other part of our bodies, and this probably explains that old saying that "eyes are the windows to our souls".
Look at this extra-ordinary image I AM THE CHOSEN VESSEL by the award-winning Naomi Frost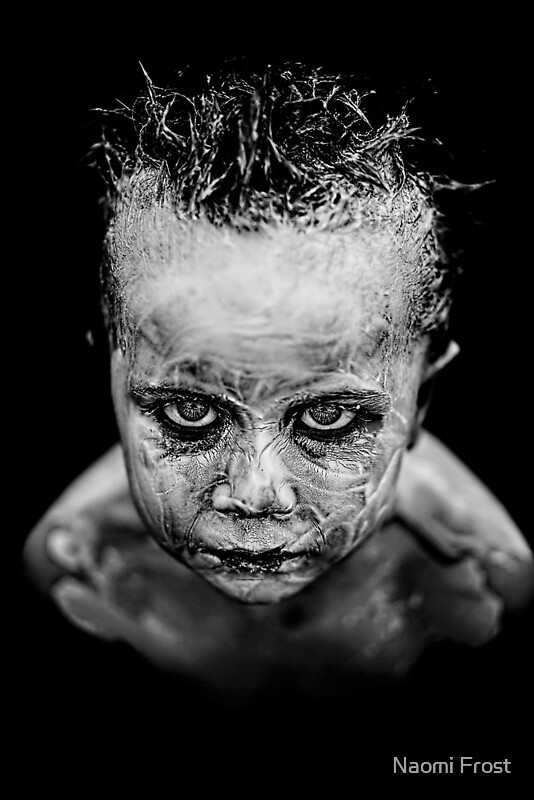 What do you find yourself looking at in this image? I bet you say "the eyes!" You can't help it you are drawn to the Subject's eyes again and again, even though the image is confronting, you just can't stop looking…
The eyes really do communicate the Subject's emotions, and as such they set the mood for the image, but they do not have to directly engage the viewer in this way. The eyes can also be used very powerfully when they do not engage the viewer – in order to create a completely different feel.
Look at this image MR MUSCULAR by Lorraine Creagh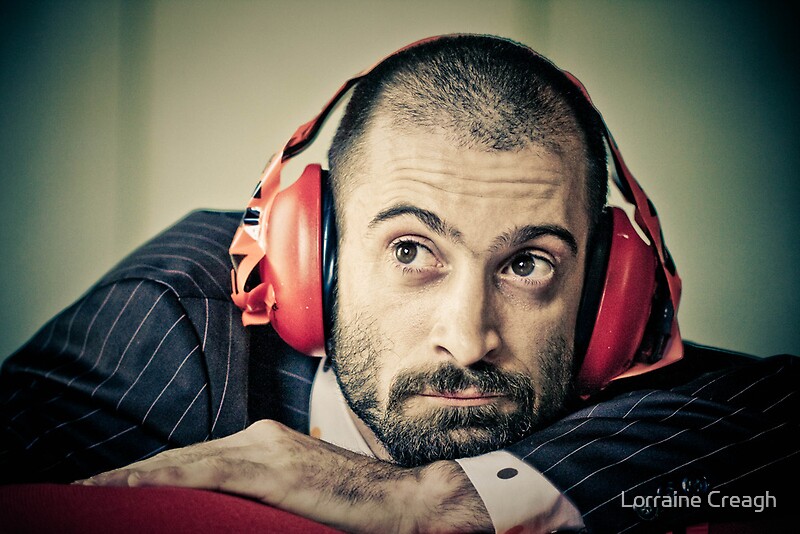 Without the direct eye-contact we are better able to study the expression on the Subject's face and in this case really wonder what he is thinking. This style is less confronting than direct eye contact, but importantly – we can still see the eyes.
Portraiture where the viewer can not see the eyes at all, is notoriously hard to produce effectively… it is not impossible to make a great portrait with no eyes visible, rather as the photographer you need to be very clear about what you are trying to communicate because the viewer will not "connect" as easily with your Subject.






PHOTOGRAPHY BY JACQUELINE ROBERTS
The Torso / Full Body Portrait is, conceptually and physically, one step back from the Close-Up Portrait.
Here we are introduced to more of the Subject. We can see the clothes they are wearing, and the way their body is positioned. These two elements now define the Subject, probably more than their face – because these two elements now take up much more of the image.
Clothing choice and pose now become very important since your viewers will make assumptions about the Subject and the message you are trying to communicate to them based on those elements. For example, you may have the biggest toughest footbal player as your Subject, but put them in a pink tutu with one finger to their lips … now what is the message you get from THAT image?
Whatever you choose in regards to clothing and pose – it must serve your Subject and serve your image. Remember that there are no right or wrong choices – only poor interpretations of the Subject.

PHOTOGRAPHY BY MICHIEL DE LANGE
The following information is taken from the WIKIPEDIA page on Environmental Portraiture
An environmental portrait is a portrait executed in the subject's usual environment, such as in their home or workplace, and typically illuminates the subject's life and surroundings. The term is most frequently used of a genre of photography.
By photographing a person in their natural surroundings, it is thought that you will be able to better illuminate their character, and therefore portray the essence of their personality, rather than merely a likeness of their physical features. It is also thought that by photographing a person in their natural surroundings, the subject will be more at ease, and so be more conducive to expressing themselves, as opposed to in a studio, which can be a rather intimidating and artificial experience.
The background in environmental portraitsThe surroundings or background is a key element in environmental portraiture, and is used to convey further information about the person being photographed.
Where it is common in studio portraiture and even in location candid photography to shoot using a shallow depth of field, thereby throwing the background out of focus, the background in environmental portraiture is an integral part of the image. Indeed, small apertures and great depth of field are commonly used in this type of photography.
Details in the surroundings While it is often true that the background may dominate the subject, this need not necessarily be so. In fact, the details that convey the message from the surroundings can often be quite small and still be significant. The key seems to be in the symbolism expressed by various elements in the background; for instance, a baseball cap may not tell you much about your subject (unless he or she is a baseball player), but a chef's hat gives you a lot more detail about who he is and what he does.

TIPS FOR POSING YOUR SUBJECT


PHOTOGRAPHY BY KOUKEI / PETER COULSEN
Body Language is everything.
Studies show that 85% or more of what we actually communicate is done through body language, and less than 5% is communicated through the actual words we say, the last 10% of our communication comes from inflection, tonality, tempo etc…
Naturally, with photography there are no spoken words, so how you pose your Subject will have a very big impact on how your viewers will feel about your image.
As a general rule [not that there are any "rules"] … IF IT BENDS, THEN BY ALL MEANS BEND IT!
Knees, hips, back, arms… whatever… they are always more interesting when they are doing what they are made to do … BEND! Stiff and straight limbs makes the image feel stiff and straight, of course that is just fine if THAT is the feel that you want for your image, but bear in mind that it makes it much harder for your viewers to connect with your Subject.
Hands always look more attractive when elongated rather than closed. Think how you would feel if a person was standing in front of you with their hands clenched, or their hands open…
If you were taking a photo of a Mother and her newborn baby… would you have the Mother staring directly at the camera, or would you have her tilt her head down so she is looking at and connecting with her new child?
If you were taking a photo of a football player whose team had just won the Grand Final… would you have the player positioned with their hands in their pockets & their head turned away looking down at the ground, or would you have the player looking directly at the camera, or maybe even with their hands up in the air looking up at the crowds in the stadium?
When it comes to Portrait Photogaphy – BODY LANGUAGE IS EVERYTHING!
The way you pose your Subject communicates not only the "feel" of the image but also the character of your Subject.
If your subject was a young child who is like a tornado and never stops running around doing crazy things… how do you think it would be best to pose your Subject – sitting on a chair with their knees pulled up to their chest and their chin resting on their knees, or perhaps would you get them to do star-jumps so you can capture them in mid-air?
TECHNIQUES & CONCEPTS
A very important technique is to get down to or slightly below the subject's eye level. With kids and women this is most important. We literally don't want to "Look down upon" the subject. Of course there are always exceptions to all "rules", but it is important to first master the rules before knowing when and where to deviate from them.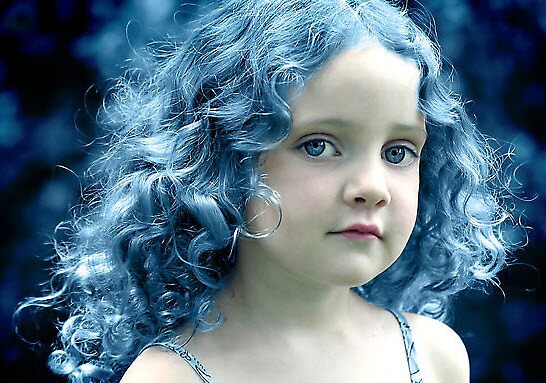 WHEN THE BLUES SING by MICKLYN
One of the tricks to focus more attention on the eyes is to sharpen just the eyes as is apparent in this image: Most people can't describe that this was done, but are very drawn to the eyes. Just don't over do the effect. If the effect is obvious, then you have gone too far. Glamour and fashion photographers wil also "enhance" the eye color.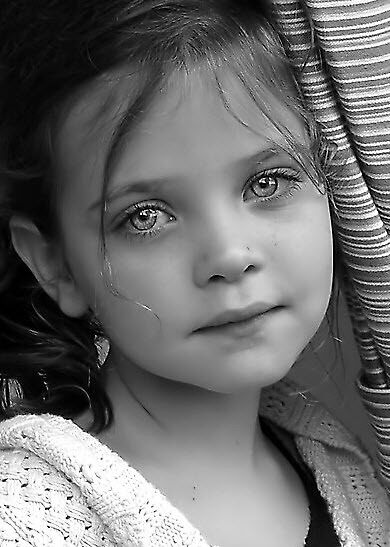 FRIDAY NIGHT PORTRAIT 2 by RACHEL LEIGH
Use a shallow depth of field (DOF) but make sure that the eyes are crisply in focus. Try shooting wide open, like f/2.8 in aperture mode. What is interesting is that if the eyes are in crisp focus we don't mind so much if everything else is not in crisp focus. Keep the eyes as your focus point.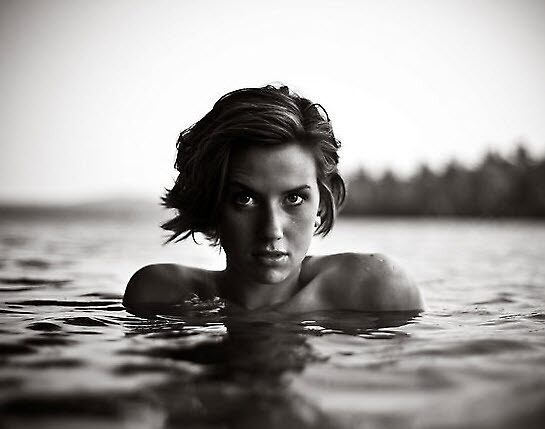 :
SHAWNA, LAKE SAINT GEORGE, MAINE by MCSQUISHYFACE
Light: Soft indirect light is best. What we want is to have some directionality to the light as that reveals the 3D aspects of the face that much better. If you are using flashes or strobes, what you want is a huge diffuser (to eliminate harsh shadows) and you want it in tight and close.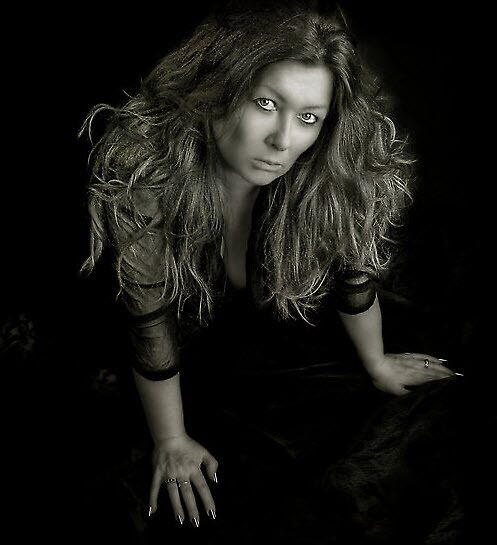 :
WANT YOU SO GOOD by TRACEY MAC
Capture emotion. This requires a rapport with the subject. Try being utterly vulnerable and just connect for a short while. Talking and giving the subject feedback helps. Fall deeply in love with the subject for an hour; real emotion can't be faked. Laugh with them. Get goofy.


BEAUTY & THE BEAST by BILL GEKAS
Since our eyes are drawn to the brightest objects first, avoid having the subject wear white. We want the viewer to focus on their faces, not a bight white shirt. More on Using Perceptual Order
Close up usually don't have a lot of props. Of course, there is the usual jewelry, eyewear, a stogie, maybe a scarf, but not much else.
A SIMPLE CONCEPT ABOUT SUBJECT ORIENTATION
If your Subject is facing from left to right in the frame this will create positive feelings for your viewer. This is a non-confronting orientation, and will make it easier for your viewer to connect with your Subject. In a very basic sense we look at most images in the same way … ie… starting at the top left corner and moving diagonally to the lower right corner. When your Subject is facing left to right in the frame, we first "encounter" the back of the subject's head, and then their face… this feels less confronting than the opposite orientation.
Traditional Portrait photography often has female subjects looking downwards from top left to bottom right.
The opposite also holds true. When your Subject is facing from right to left in the frame, this creates feelings of opposition and strength because your subject is facing into or against the natural flow of our eyes. The first thing we encounter is their face. This orientation is confronting and can create feelings of tension in your viewer.
So guess which way males are often positioned in traditional portraiture? – Yep, you got it … males are often positioned facing against the natural movement of our eyes.

CREATIVE STORYTELLING
I can not emphasise enough just how important creativity is when creating images. We can press the button and hope for the best, and from time to time we might get lucky… but most of the time we just create images that look like everyone else's.
Creativity is not just about the image, it is also about YOU the photographer.
Creative Storytelling in Portraiture Photography is where you can do more than take a photograph of a face, it is an opportunity for you to be bold and daring and truly original.
A Master of Photography once told me something very very important…
"If you suspect that other people will think you are crazy or wierd or strange for taking a photo a certain way… then THAT is exactly the way you should take it, because you can guarantee that nobody else will take it that way!"
There is a terrible terrible thing that often gets into a photographer's mind like an infection, and it is encompassed in one little word… FEAR.
We don't want people to think we are wierd/strange/unusual… so we play things safe.
Well… DON'T PLAY IT SAFE! – BE BOLD, DARING AND UNIQUE!
Take another look at Naomi Frost's extra-ordinary image "I AM THE CHOSEN VESSEL" … her son, some face cream [or something similar], an unusual perspective, stark B&W ,and awesome Depth of Field… and the result is something just breathtaking!
Have a look at Flibble's portfolio… beside his great technical skills, Mr Flibble is astoundingly creative when it comes to storytelling. His work is bold, daring, and unique. He is an artist who is not afraid to be different in order to get that great image! Everyone has copied the "Christine Keeler" photo, but no-one has done it with such humour as Mr Flibble! … he has taken a great Pop-Culture reference and turned it on its head! His self portrait with the camera stuck to the side of his head… doesn't that just say everything about a photographer?!
Creative Storytelling works best when you have a clear concept in your head before you pick up the camera. Consider this as a creative "process":
Conceptualise the image.

Perspective/Point of View
Lighting
Colour or B&W
Location
Props
Model/Subject

Communicate your ideas to the Model/Subject
It may be useful to have someone to help out as an "assistant"
This style of portraiture requires good communication between yourself and your Subject so that you both know what you are trying to achieve. You and your Subject need to work together as team, probably more so than with any other style of portraiture… you may be taking the photo, but your Subject has to "act" for your camera. This can be difficult, especially for non-professional models, so clear supportive communication is important, and don't forget to make it fun. If your Subject is not enjoying the experience, then it is going to show in the photo!
Creative Storytelling gives you another "hook" to grab your viewer's attention and to keep them coming back time and again to look at your work.

COLOUR OR BLACK & WHITE?
This really comes down to personal choice and what you are trying to emphasise with your image. If you want a strong masculine feel to your image, then B&W with high contrast is the way to go. If you want a softer "feminine" feel then pastel or muted colours are a suitable option. If you want excitement and intensity, then try bright bold blocks of colour. And for an ethereal feel you could always try B&W but predominantly greys with gentle tonal gradations.
Of course there is no hard and fast rule for this. It really depends on your Subject and what sort of impression you are trying to make.
If your Subject is a new mother and her young child playing in the background – would B&W high contrast be the most suitable choice?
If your Subject is a large football player covered in mud from a hard game in the rain – would you choose muted/pastel colours?
What if your Subject was a worker in a steel mill… what choice would you make, and more importantly – why would you make that choice?
Black & White is good for emphasising shape, form, line, and as such tends to be a great way to show the "character" of your Subject without the distraction of colour. Whereas colour can be used to emphasise emotions that are complimentary to the Subject in ways that B&W can not.
With B&W a background can be black, grey, or white. With colour you can have any choice you want of millions of shades of any colour in the rainbow. Each of those colour having a different effect on your viewer because of the way that colours make us feel. Imagine a bright red background to a portrait, or a soft yellow background… how do these colours make you feel? Is bright red a gentle, passive, ethereal colour? Is soft yellow a bold, "aggressive", passionate colour?
You see what I mean.
As with everything in a good photograph, it is all about the creative choices you make and the "message" you want to convey about your Subject to your viewers.

RESOURCES FOR FURTHER READING…

ASSIGNMENT #1 – THE CLOSE-UP PORTRAIT
Take a close-up photograph of your Subject, and present that image in Colour and B&W.

ASSIGNMENT #2 – THE TORSO or FULL BODY PORTRAIT
Take a Torso/Full-Body photograph of your Subject and present that image in Colour and B&W.

ASSIGNMENT #3 – THE ENVIRONMENTAL PORTRAIT
Take a photograph of your Subject in an environment that is typical of that person. Present the image in Colour and B&W.

SPECIAL THANKS TO THE FOLLOWING ARTISTS FOR THEIR GENEROUS PERMISSION TO USE THEIR IMAGES: