Members often comment that the colours on their shirts look different on RedBubble than they do in the original design on their computers.
There is a reason for this – and it is a very good reason.
RB alter your colours to more accurately reflect what they will look like when printed on a shirt.
"But why Byron, why can't my customers have my colours on my shirt?" I hear you ask.
[Ok I don't actually hear you ask that, or maybe I do, its hard to tell with all these voices in my head…]
Well, if RB displayed YOUR colours, then that is what your client would be expecting, … and its not what they are gonna get.
"But why don't my customers get my colours on my shirts Byron?" [another voice in my head that insists it is you keeps asking…]
Well, think about it… a tee shirt is a low-res matt-finish print medium, and because of its very nature it will slightly alter the colours that are printed on to it.
If you look at the colours on the RB Stickers [which come from the same image file] you will notice that they are brighter.
"But why is that, Byron?" [really, you gotta stop talking while I am typing!].
It is because the stickers are a gloss white higher-res print medium.
So in an effort to help you all get some accurate idea of your tee-shirt colours, I have a suggestion:
MAKE YOUR OWN "RB-TEES COLOUR CHART"
Pick different colours, then copy the colour "number" and print that number in that colour. Do this for a range of colours. Then when you want THAT particular colour [or something similar] you just type the colour number into your production software [GIMP, PS, etc] and away you go.
Here is my colour chart:
STICKERS: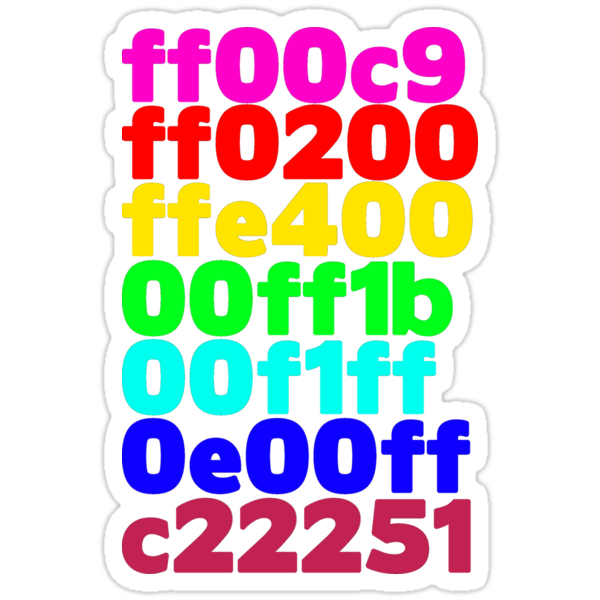 ON A BLACK TEE:

ON A RED TEE:

ON A GOLD TEE:

ON A GREEN TEE:

ON A DARK GREEN TEE:

ON AN ARMY TEE:

ON A BLUE TEE:

ON A LIGHT BLUE TEE:

ON AN ORANGE TEE:

---
This is the colour swatch from the American Apparel website:
---
RedBubble's very own RAMIRO has created an awesome tool to help with t-shirt colours:
I have created an online tool that helps choosing colors for shirts on Redbubble and Zazzle. It displays the selected text color on background colors that can be chosen when creating shirts on Redbubble and indicates whether the color contrast is good to use or not.
This is a link to his Journal about this Tool
click here to go directly to RAMIRO'S Tee Shirt Colour Chart tool