ME AND "FACE-INNA-BLANKIE"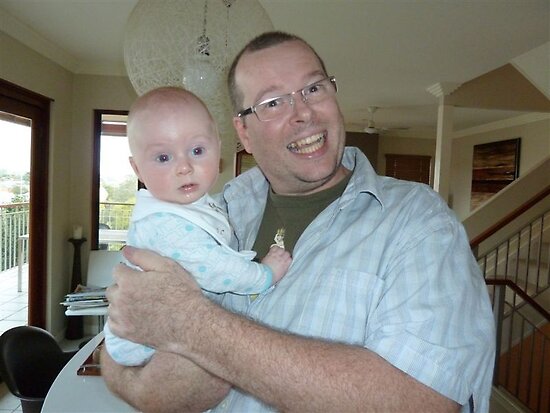 This is me and my sister's little bundle of cuteness.
I am the one on the right of the picture.
The one on the left is called "Gus" [what a cool name, huh?] They were gonna call him "Indie" which also would have been cool, but probably only to anyone who has watched the Indiana Jones films, – allthough that is not why they were gonn give him that name.
I call him "Face-inna-Blankie" because his parents [now quite famously] took a month [after he was born] to come up with a name, and "Face-inna-Blankie" seemed nicer than just calling him "it".
Uncharacteristically, I am not wearing black. But I maintain that I don't always wear black, and that I can choose too wear other colours any time I want.
That and it was washing day, and I was all out of black clothes
---
01/10/2010:
Gus modeling the latest in Baby-Fashion Clothing from the amazing design studio of AMY-LEE FOLEY