The one piece of equipment that every photographer should have in their cupboard is the tripod.
They do one thing and they do it really well – they hold your camera steady.
They are usefull for Landscapes, very very handy for Studio Portraits, and absolutely mandatory for Macro & Close-up photography.
As a general rule with tripods – you get what you pay for. You will be entrusting your prized & expensive camera equipment to a stand … spending a bit of money now will save you a whole lot of heartache later.
Quality tripods have six main features:
1. Weight.
A tripod needs some weight to it otherwise it will vibrate in the wind, or when traffic passes by.
2. Metal joints.
All joints should be of strong solid metal construction – these are the parts of the tripod which will take the most stress.
3. Metal or Carbon Fibre legs.
Plastic legs tend to flex and bend ever so slightly which will add to the vibration. Metal or Carbon Fibre is also more durable.
4. Rugged Feet.
Your tripod should have large rubber feet to cushion the tripod from external vibrations. Many tripods also have rubber feet which screw back to expose a metal spike for grip on ice or similar surfaces.
5. Screw-Type Locking Clamps.

Screw-Type Locking Clamps are the style of Leg Locking Clamp where you have to manually rotate a bolt to clamp the legs into place. Sure they take a bit of time to screw and unscrew, but they also never slip no matter how much use they get because you just keep screwing the bolt until it is tight. This is always preferable to the alternative…
Flick-lever or Quick-release lever-type clamps.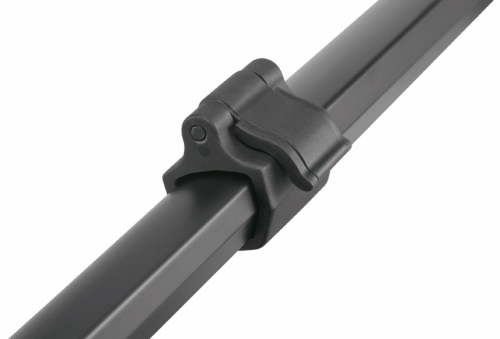 These operate a small cam which will eventually wear out from use and not hold the legs in place. Nothing is quite as terrifying as watching your beautifull camera nose-dive into the concrete as one of the quick-release locking clamps on your tripod gives way.
6. Sliding / non-geared centre column.
The centre column of your tripod should be a manually operated column, ie… you dont have to wind a geared mechanism to make the column go up and down. Geared mechanisms never lock in place properly which means the centre column is never truly stable. The more use they get the worse they get. Not that it counts for anything, but amongst tech-snob photographers it is considered that only "noobs" use tripods with a gear-activated centre column. Not that that counts for anything, right?
---
Of the brands I would recommend there are really only two that I would buy: Manfrotto and Benbo.
The BENBO TREKKER MK3 sells for about $350AUD
Check out the range available online in Australia here: VANBAR IMAGING
The reason these tripods are so good [especially for macro and close up work] is that you can position the camera in any plane not only the vertical plane.
In fact you can position the camera upside down under the universal joint.
As you can see in the above photo – you could position the camera at 2 inches off the ground with complete stability to do a macro shot of a blade of grass. There is no better tripod for this kind of work. These are also great if you are doing macro work indoors [ie… on a table] because [again] you can position your camera in any plane.
Sure, they may be a bit heavy, but heavy is gooood for this work where stability is a prime concern [any slight movement during macro work is magnified out of control].
If you need a tripod for use while hiking then you buy a light-weight easy to carry unit, or get a monopod.
I would buy one in a second now, unfortuneatly they weren't available 14years ago and I bought a Manfrotto, which has been and continues to be an excellent unit.
I, personally, would avoid "SLIK" brand tripods – my experience with them is that they are a bit light weight and not as sturdy in constuction. However – I have not seen their full range, and my perception of SLIK is from 14 years ago.
See what this guy has to say about his Benbo Trekker
---
These are great for fast action photography where you are constantly on the move, however they only provide stability in the vertical plane – its upto you to hold it still in every other direction.
These tripods suit sports photography and wildlife photography.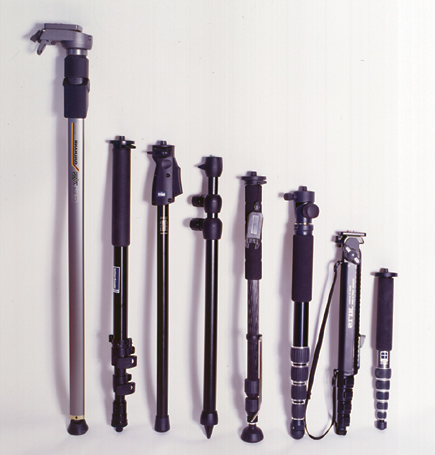 ---
The Gorilla Pod is one of the most useful gadgets ever.
Light, easy to carry, and they can be adapted to suit any surface, or fixed to any surface quickly and easily. Prices range from $15-$240.00AUS
---
The Manfrotto 222:

The Manfrotto 322RC2:

The Manfrotto 324RC2: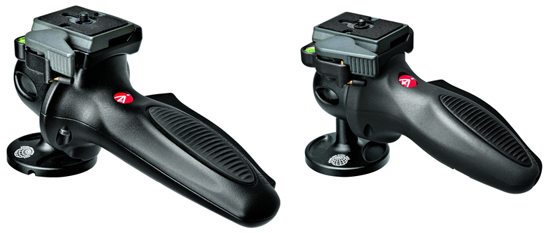 Pistol Grip Heads are great for quick fast changes and are especially usefull on monopods where you can only use one hand to adjust the head [because your other hand is holding the monopod!] But they are not as good for fine precise control.
Make sure they have big easy to grip handles with soft grip texture – they can get quite stiff especially if you are using a camera of any substance. These heads are the best for fine acurate control in all three planes. The reason they are so good is because when you adjust one plane – you don't effect the other two planes.
Video heads are recognisable by their long rear-mounted handles. Typically they will rotate left-right, tilt up down, and tilt to the left but not left-right.
Don't buy Video Heads for your SLR – they are completely useless because the long arm gets in the way preventing you from looking through your viewfinder. The lack of movement in all 3 planes is also anathema when using these heads with a SLR.
The Manfrotto 390RC:

These types of Video Heads are fine for your average cheapo home video camera where you don't want to move the camera once filming has started. Their mechanisms are not really designed for super smooth movement.
If you do need a Video Head that allows for smooth movement, then spend the money and get an oil-damped Video Head. These heads have super smooth movement due to oil-filled hydraulic mechanisms. Once you have tried one of these you will never use anything else for your Video Camera.
The Manfrotto Pro 501HDV with oil-damped mechanism:

These are ok but not as accurate or as flexible to use as a 3-Way Head. Definitely not for macro work! I have known a couple of photogs who have these, and they both found them to be good quality heads, but annoying to use. They are not as flexible-in-use as a 3-way head, and they tend not to hold their position as well with heavy cameras.
Generally, all manufacturer's heads will fit onto all tripods as they are industry universal connectors, but always check first!
One last thing… all decent Head Units have a little brass locking pin that when activated prevents the release lever from releasing your camera. You can see it on the right-hand side of the Ball Joint Head shown above. They look the same on all Head Units.
ALWAYS ACTIVATE THIS SAFETY DEVICE AFTER ATTACHING YOUR CAMERA TO THE TRIPOD
---