HAVING LOST SOME FORMAL CRITIQUES AS A RESULT OF A GROUP BEING SHUTDOWN RECENTLY, I AM NOW COMPILING ALL MY FORMAL CRITIQUES INTO MY JOURNALS.
1. ALL OF THESE CRITIQUES WERE FORMALLY SOUGHT BY THE ORIGINAL ARTISTS
2. ALL IMAGES USED FOR REFERENCE PURPOSES HAVE BEEN USED WITH PERMISSION FROM THE ORIGINAL ARTISTS, AND NO CRITIQUE OF THESE IMAGES SHOULD BE IMPLIED BY THEIR USE.
---
"22-23" by James Deverich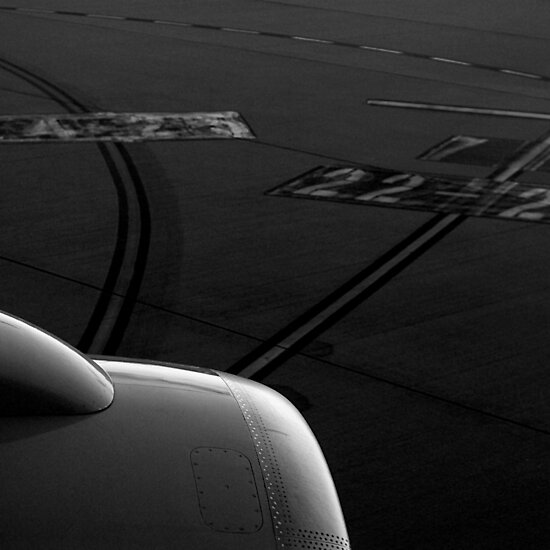 FIRST IMPRESSIONS
This caught my eye straight away. Initially I had no idea what it was, and then slowly I worked it out. I like that in a photograph.
TECHNICAL QUALITY (10 points)
Settings: F4 1/6 Sec ISO 400. I think the aperture should have been around f11-f19 to keep the background in focus. The background seems a a little blurry and since it takes up so much of the photo, I think it would look better if it was sharper. However dropping the aperture to f11-f19 would have meant either a longer shutter speed with the inherent risk of motion blur, or increasing the ISO which would have added grain and noise.
Exposure: I think your exposure is pretty much spot-on.
Lighting: Excellent. The way the lighting catches the edge of the engine cowling and then gently falls off creates a beautiful texture and superb shades of grey.
Colour Saturations: Good rich blacks, excellent grays, whites are a bit on the grey side and could be boosted a fraction to make them more white.
Focus / Depth of Field: The engine cowling is nicely in focus, since this is the primary subject that is fine, but as mentioned before, I would like to have seen the background sharper.
Sharpness: Generally good, especially the engine cowling which looks really crisp and clean.
Score: 8
INTEREST (10 points)
Aesthetics / General appearance: A very abstract image about lines, shapes, and shades of grey. The smooth tones are deceptively attractive. The bisecting white line in the top right is just way too bright in comparison to the other lines. It keeps grabbing my attention. I think it needs to be darkend slightly to keep the viewer's attention on the engine cowling.
Emotional Content: Not a lot of emotional content, but then this style of image isn't meant to convey emotion. Its more industrial in feel, which is perfect for this style.
Storytelling ability / Creative communication of a concept or idea: There is no story here to tell. Its not a "here I am landing at Sydney Airport" photo. But James has communicated a strong sense of the abstract almost surreal nature of this scene. There is a strange shape on the left, a straight diagonal line which gets bisected but continues as dots, a strong curved line, and some big printed numbers. Its almost like an industrial Salvador Dali photo.
Originality: Very original in concept and execution.
Score: 8
COMPOSITION (10 points)
Framing / Cropping: Generally good. I would not like to see any more of the engine cowling. I like the mystery created by not being able to see straight away what it is.
Simplicity of Design: Very simple, clean and neat. Only the elements that are really needed to convey this abstract feel have been included in the image.
Points of Interest: Engine cowling, straight line, curved line, numbers. No baggage handlers or extraneous machinery in the scene.
Rule of Thirds: n/a
Lines & Diagonals: The diagonal line is great. But maybe crop a bit off the top so that it goes right into the top right corner.
Balance / Use of Negative Space: The balance feels a little bit off. But only slightly. But this is a very abstract construct and balance is not always a primary consideration in abstract, and that is kind of the point… its abstract not conventional.
Score: 7
GENERAL COMMENTS
A top image that I think you should be proud of. Black & White is the perfect medium for this style. B&W really helps when your image is about lines, shapes, and the transition of light.
I can't believe you took a picture this good out the window of an aeroplane.
Total Score : 23 / 30