COMMUNITY INSPIRATION INTERVIEW
1. What's your favourite artistic tool or piece of equipment (past, present or dream)?
Past:
My Piano. BEALE UPRIGHT GRAND

I started writing music at about the age of 5. Up until the age of about 25 I had written more than 200 pieces of music.
With musical instruments [and I think especially the Piano] you tend to have very intensely personal relationships. My Piano was my soulmate and only true friend. It was the only one who would/could listen to me and understand the [emotional/psychological] pain I was going through. It was not really possible for me to verbalise those feelings back then, – its still difficult now.
Present:
Konica Minolta Dynax 7D 6mp DSLR with a Sigma 17-35mm W/A Lens. [see the photo towards the end of this interview]
This is a professionally-specified camera designed for Photographers [as opposed to designed for hobbyists]. It is big and black, and covered in dials and buttons so you don't have to access functions by an on-screen menu [hooray!].
It looks like a million bucks, and says "this guy is for real". I have had many pro-photographers drool over it because it is sooo much better than the gear they use.
I am a tech-junkie. I love high-end equipment. I only own the best. It says that I take my art seriously.
Dream:
A Wacom "Cintiq 21X" Graphics Tablet. The one where you actually draw on the screen.

I want one of these so I can complete the graphic novel I am working on.
I'm gonna have to work a lot of overtime to afford that toy!
---
2. Which work are you most proud of and why?
THE BOXER 1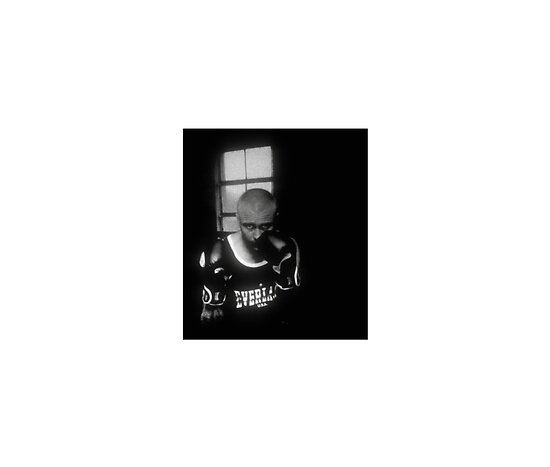 This was photographed in a boxing gym that is just like the one in the original ROCKY movie… old, dark, poor ventilation, and it reeks of sweat and old leather.
I love the high-contrast gritty/grainy look of this image, the stark composition, and the intense feel.
I especially love how the window and its frame came out in this shot.
MAINE HOUSE, NEW ENGLAND

At the moment I took this shot, I knew how it would look after post-production. I love the way it feels like you are sneaking a look through the bushes.
This house is only a few miles from where Stephen King lives, and this was inspirational in the creation of this image.
I pretty-much only shoot B&W images. I like my skies black, and my clouds white, for this reason I always have a Circular Polarising Filter on my lens to boost the contrast and deepen the blues in the sky. The net result when you convert the digital file to B&W is that the sky goes black. This creates lots of drama, and contrast with the clouds. It also helps to bring out any detail in the clouds.
---
3. Which artwork by a fellow RB artist do you secretly wish you'd created and why?
[empty at this time]
---
4. If you could learn any new creative skill or technique, what would it be?
To draw like Matthew Dunn or Chris Wahl
---
5. If you could collaborate with any artist on RedBubble, who would it be?
There are so many artists I admire on RedBubble, but my top three who I would like to learn from, would be:
Matthew Dunn
Paul Vanzella
Koukei
---
6. Finish this sentence: When I'm not being creative …
"When I'm not being creative… I am thinking about being creative, or I am asleep."
---
Bonus Question: Show us a photo of something that's important to your creativity. It could be your workspace or studio, an image above your desk, an old sketchbook, the tool you mentioned in question one or anything else that tells us a little about you as an artist.
Konica Minolta Dynax 7D 6mp DSLR with 17-35mm [KM] w/a Lens.

---
To gain more insight into the insides of my insidious intellect, especially in regards to outrageously excessive alliteration, check out these:
50 THINGS YOU DIDN'T KNOW ABOUT BYRON
ANOTHER 50 THINGS YOU DIDN'T KNOW ABOUT BYRON