A Memory for Memorial Day
I have posted this before and am posting this again in a respectful memory of my father.
Although Memorial Day is an American holiday, I would like you to read what I wrote in the description of that image in years past. I posted the image with a story about my father as a Polish soldier in World War II.
I feel it should be shown and allowed to be read again as a tribute to my father who luckily did not die in the war and came to America to raise a family in Chicago and give us a wonderful life.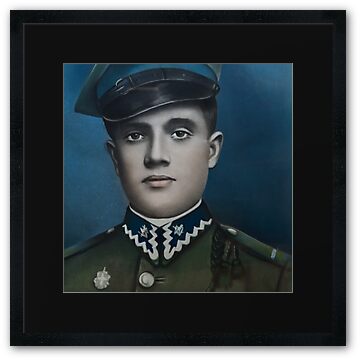 This is a Polish soldier.
This is a man who has suffered greatly.
This is a man who has shown great courage.
This man fought in World War II.
This man is my father.
He was born in Poland and raised on a farm. His mother died when he was two. He was raised by his father and from what little I know, he was ruled by an iron fist of a father and had a hard life.
He never wanted to talk about the war. He only told me that he was captured by the Germans and was a prisoner of war for six years. When I was a kid, he just told me one graphic detail to leave an indelible mark on my mind. And that was that he saw "kiszki" hanging from a tree. Not sure if I spelled kiszki right. It's a Polish word for a human body part like kidneys or something.
Once we were watching TV in my teenage years and I think we were watching a war movie or Hogan's Heros or something and I asked him, "Why don't you tell me a war story." He said "No". I asked him again saying, "Just tell me a little something about the war". He replied, "No. I don't want to talk about it". I then, like an idiot, asked for a third time, "Not even a little bit about the war?" He leaned over in his chair and burst out screaming, "I DON'T WANT TO TALK ABOUT IT! I DON'T WANT TO REMEMBER THAT SHIT! I AM TRYING TO FORGET ABOUT IT, NOT TALK ABOUT IT!
He yelled at me so loud my heart was racing in fear.
That was the last time I ever brought up the war. I learned over the years, the guys that saw the heavy stuff in a war never want to talk about it. It took me a long time to learn that.
Several years after my father passed away, my sister's husband told me a story. He said that he was sitting in the front room with my father and said that my father informed him that he was in the cavalry. He said the German tanks were charging on one end and my father and the rest of the cavalry in the Polish army were charging on horses on the other. German tanks blazing on one side and my father charging with a sword on the other.
I will never know that kind of courage. To keep charging against insurmountable odds just amazes me. How he survived, I'll never know. Once captured by Hitler's army, he spent the next six years in a prisoner of war camp. I'm sure that was no picnic either.
I never knew how to show my respect for my father regarding the war since it was a very sensitive subject. I just want him to know, that if he is watching right now, that I respect him for fighting for his country and doing his best.
I will end this by saying that Polish people in World War II had a hard life. Probably not a lot to smile about in that era. I want to thank my father and all soldiers in every country that fought the good fight to keep freedom and safety in their country. We all should think of the soldier that fought for us so we can grill that hot dog or burger on Memorial Day and have the freedom to do so.
Next time you see a man in uniform in your town, just look at them and nod your head in respect. Don't say anything. Just give them the nod and maybe a salute. Sometimes that is all they need at the time.
Thanks Dad. Here's a nod and a salute.