Adam's Photographer of the Day is Arfan Habib
Today, my photographer of the day is Arfan Habib from Sydney, Australia. Arfan has a mostly landscape image portfolio that contains seascapes, bridges, cityscapes, and piers and jetties that are taken in fantastic colorful dawn and dusk settings. The colors are just astounding and saturated in such a way as to make for an image to be well done and yet not overcooked. His mastery in compositions is amazing. Things are spaced out in such a way so as to not look crowded or distracting. It is as if he knows how much space to give everything so the viewer is drawn to the subject and can relax and enjoy the scene in a natural, yet unique manner. Converging lines, diagonal lines, subject placement in thirds, and just some of the coolest colored clouds in the universe. When it comes to his landscapes, there is not much in the way of a weak image. Each image stands strong and beckons me to mesh my head into the entire scene like sinking my face into a bathtub filled with colored water and letting me feel the tranquility on my face. So, let's go sink our faces into Arfan Habib's portfolio.
We start with a color-filled bang in the image above titled Opera House Sunrise. It is the purple and black sky that grabbed me in this one. Very unique, very different and the reason, is the 70 second exposure. With the clouds slowly moving across the sky for 70 seconds, the result is a sort of brushstroked sky with wide sweeping smears and blotches of light and dark clouds. The same goes for the water which also has that smoothed over look and retains the reflection of the cloud colors. Then we have the Sydney Opera House with its half parachute, triangular and elliptical shapes set against the yellow sky which has just enough of a clearing in the sky to create an amazing contrast with the color yellow behind the structure and even better yet, in the body of water in front of it. The mood of this mixes exciting, somber, and mysterious all into one for me and I find it one of his best images.
Next (above) is a black and white waterfall image titled The Thin Motion ~ b & w. For those of you who like to see camera settings, Arfan use a Canon 60D camera and this was only a 1 second exposure at f8, ISO 100 using a Canon 15-85 mm lens shot at a 44mm focal length, and a single image processed in Photomatix and PSP X3. This was taken at Somersby Falls, Central Coast, NSW, Australia. I like this image because of the smooth, silky effect of the water on the long exposure and the way it is strongly contrasted against the darkness of the rocks. The deep dark areas on the rocks with the lighter highlights on them make for a rich textured image that makes my eyes gleam. The light shining on the ferns on the left with Arfan positioning the camera to include them in that corner was a wonderful artful idea. It brings a little extra life into the image and completes it as tranquil, wonderful, and beautiful image.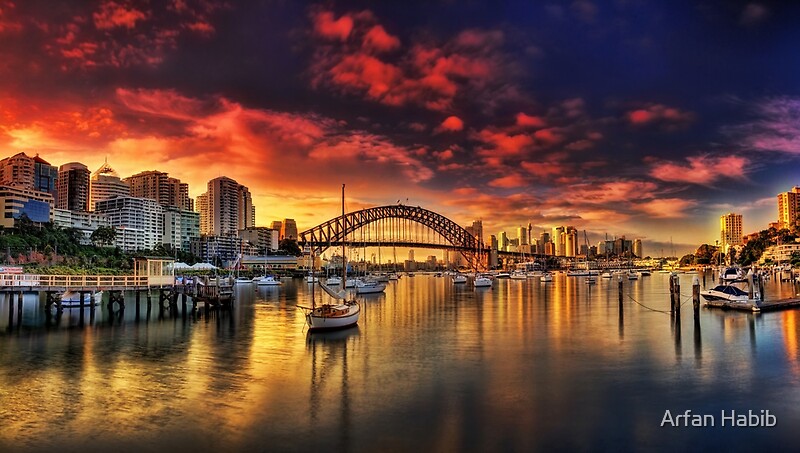 Then we go to a fantastic cityscape image above, titled Lavender Bay Sunrise – Panorama. I would like to first talk about the composition and what makes it so great. Notice the large amount of space and uncluttered water in front of and adjacent to the boat closest to the camera. Because of that, we get to experience the joy of all the glowing, gleaming gold and steely blues in the water around it. That is a big part of the appeal to this image. The line of reflecting gold gleam seam to run on a 45° angle to the bridge in the background which is backdropped by a creamy yellow which then runs a yellow band behind the buildings on the left. Then there is the sky … ooooh! Those deep pink clouds spaced out in a surreal manner against a midnight blue upper cloud mass that just accents the entire image in a dramatic fashion. This gem is the result of 12 bracketed shots processed in Photomatix; and HDR program. For those of you that want your images to have that rich and special quality and you are frustrated with achieving that in Photoshop alone, go out and purchase Photomatix and start bracketing your images. You will see a remarkable difference. This image is a testament on how to do it right.
And how about this fourth landscape image titled Four. It's the fourth image on this page and it is titled Four get it. Oh man, I am the clever guy. Whooooo doggie! I'm just picking colors at this point because all of Arfan's landscape images are great, so I wanted to change it up with an image that is predominantly blue. There is another great "blue" image of his titled Into the Blue that I was thinking of putting up here that has even better blues than this image, and I was torn between the two as they are both cool in their own way, but I it was the foggy, misty look of the water that blew me away. This foggy water look is the result of a 59 second exposure which was caused by a low ISO speed of 100 and the use of a graduated neutral density filter. Images with this effect need the wavy water to rise up and down over the rocks and with a long exposure, you get the effect that it is fog instead of water. Naturally a tripod must be used to maintain focus on everything and allow the water to move and be captured by the camera. A fantastic image that inspires me to go out and do this myself. I have to get out more.
I will leave you with one last one with some different colors than the rest on this page titled Mossy Rocks. My God, this is beautiful. I looked over the four images before this one and realized that I don't have any images with either green or orange, figuring that would be a nice contrast to the others. I saw a bunch of green in the thumbnail and opened it up and was just filled with wondrous joy and amazement. Taken at Turimetta beach, Narrabeen, Sydney, NSW, Australia, a 30 second exposure using graduated filters and the Canon 10-20 mm wide angle lens, the rocks are tack sharp from the front all the way out to the horizon. The sharpness is what got me started in gazing at this one, but of course, the wonderful array of colors took over as it always does in Arfan's images. The exposure on the green, mossy rocks is just right. It is bright enough to see everything clearly, yet subdued appropriately to let us know this is low light before sunrise. And how about that light, milky blue of the pool towards the center of the image; amazing effect and color. That with the entire sky in red, yellow, and pink, the colors just bounce off each other to accent each other in a mind-blowing scene. Absolutely beautiful Arfan.
Go to Arfan's portfolio and you will see many more as good and maybe better, in your opinion, that the ones I have posted here. Not a weak image in the bunch. I left one of the best photographers towards the end of this series which ends tomorrow. One more to go for the Grand Finale as I call it. If any of these images move you, then I urge you to click on them and leave a descriptive and complimentary comment for Arfan and don't forget to fave it so you can go back and read the technical camera information and learn from it. A great photographer and teacher through his descriptions, Arfan is one to remember and put on your Watchlist. I know he is going on mine. Can't wait to see more wonders Arfan. Keep up the amazing work.