How to add thumbnail images to your homepage.
I have been asked several times how I get those little clickable thumbnail images on my homepage. I must admit I am a lousy typist so I will try and explain it here with images. I use a windows computer with internet explorer, I am sure a mac or linux computer will be about the same.
STEP 1
open your profile page and edit your profile. Go to the little box where you can type in your profile.
STEP 2
open your "My Art" page in another window or tab.
STEP 3
Right Click on the little thumbnail picture that you want to copy to your homepage.
select properties.
select and copy the address info.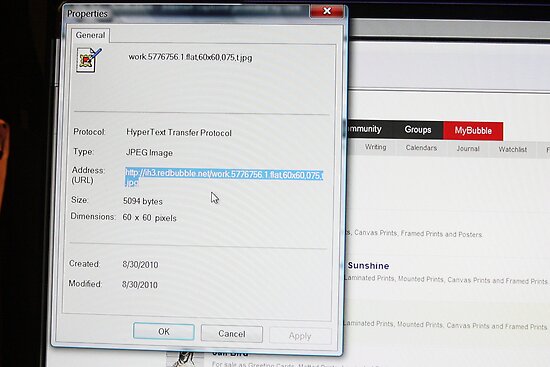 STEP 4
go to your profile page and type a !
now paste the address you copied in step 3 right after the ! and add another ! right after what you pasted. Do not put any spaces between the two exclamation points.
*STEP 5 Make it "clickable"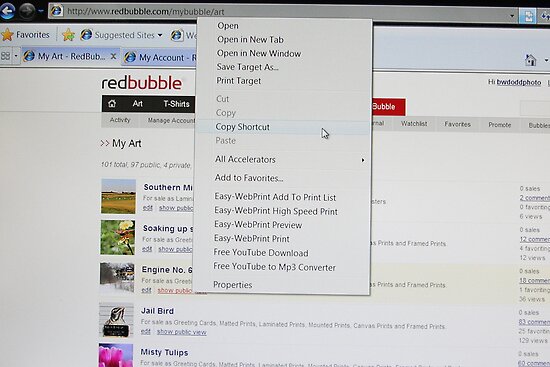 go back to your art page and right click on "show public view" and select copy shortcut. Now go to your profile page and type a : right after the last exlamation point you did in step 4. Now paste the shortcut right after the : and put 1 space after your shortcut.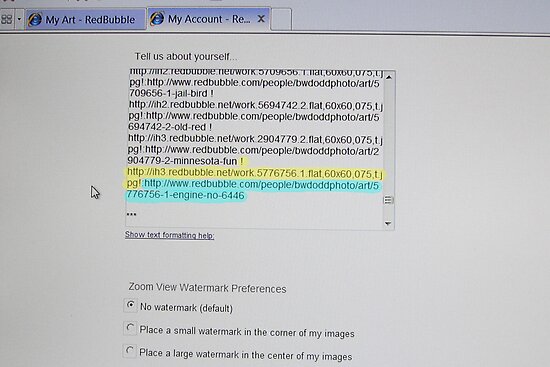 In the image above the yellow is what you copied from step 3 and the green is what you copied from step 4. (you added the 2 ! and the : )
STEP 6
Save your profile and look at the results.
NOTE
Here is a link to another page with more info.
Tutorial