From Wikipedia, did you know?
"The Girl from Ipanema" ("Garota de Ipanema") is a well known bossa nova song, a worldwide hit in the mid-1960s that won a Grammy for Record of the Year in 1965. It was written in 1962, with music by Antonio Carlos Jobim and Portuguese lyrics by Vinicius de Moraes with English lyrics written later by Norman Gimbel.
The first commercial recording was in 1962, by Pery Ribeiro. The version performed by Astrud Gilberto, along with João Gilberto and Stan Getz, from the 1964 album Getz/Gilberto, became an international hit, reaching number five in the United States pop chart, number 29 in the United Kingdom, and charting highly throughout the world. Numerous recordings have been used in films, sometimes as an elevator music cliché (for example, near the end of The Blues Brothers). Ipanema is a neighborhood located in the southern region of the city of Rio de Janeiro.
Created in Incendia 1.4 with postwork in Photoshop.
deviant Art: bpclarke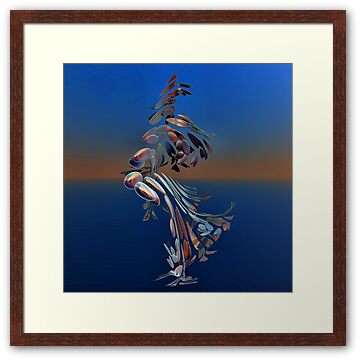 Featured in:
A Fractal Energy Passion Nov 2010
Art in Math Nov 2010
Inspired Art Dec 2010
Group Incendia Dec 2010
ImageWriting Mar 2011
The Virtual Museum Feb 2012
Art Universe Feb 2012
Bryce and Beyond Mar 2012
The Group Jul 2013