Christmas Pudding Cupcakes
I love to cook, its my other passion. I made these.
Featured in:
Creative, Talented & Unknown 06/Dec/2012
Table top photography features gallery 06/Dec/2012
The Luscious Food House 07/Dec/2012
Through the eye of the lens 10/Dec/2012
The art of Still Life 14/Dec/2012
Gems 17/Dec/2012
No 1 Artists on Redbubble 18/Dec/2012
Cupcake Corner 26/Dec/2012
Everything Special To You 20/Jan/2013
Chocoholics anonymous 28/Jan/2013
First Things 01/Feb/2013
Alphabet Soup 03/Apr/2013
Food For Thought 13/Feb/2014
Thanks so much
Recipe below – Enjoy
Photo taken in Melbourne- Australia
Canon EOS400D, Tamron Macro Lens 90mm
RAW details: Manual setting – exposure 1/40 f/ 2.8 iso 100
I used natural and reflected daylight next to a window.
Thanks for viewing my work
I invite you to view my book called Nature's Palette at Blurb. All 60 pages can be viewed

You can also view my photography at Joy Watson Photography
I also invite you to view my work at
Bluecanvas
Fine Art America
Joy's Cards at Greeting Card Universe
Zazzle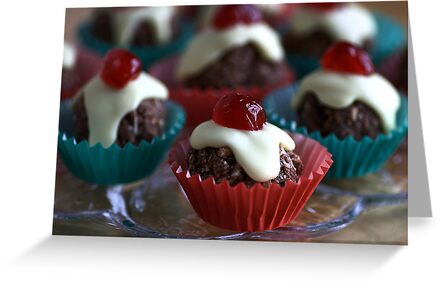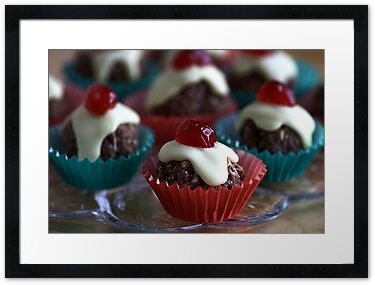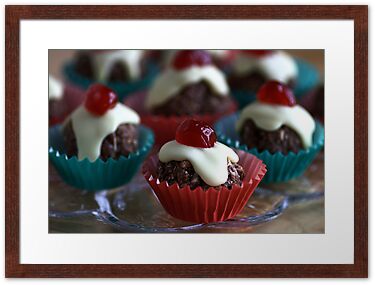 Coconut Balls
1 tin sweetened condenced milk
1 cup coconut
1 teaspoon vanilla
2 tablespoons cocoa
1 pkt arrowroot biscuits or sweet biscuits (crushed)
Mix all ingredience together well. Roll into small balls and toss in coconut or toasted coconut. You could even coat in chocolate.
Or to make them into a Christmas delight melt some white chocolate and spoon some on top and place a half of a chopped glazed cherry.
This recipe has been passed down through my family. I don't know where it originally came from.
Enjoy.
Photo taken 5th December, 2012