Featured in:
Food For Thought 15/Sep/2012
Food for Thought 16/Jul/2013
Canon EOS400D, Canon 18-55mm
exposure 640 f/- 3.2 iso 100
Photo taken in my Dining room at my home in Diamond Creek, Melbourne.
As at 24/Nov/2010
608 views
12 fav
I hope you will enjoy making my slice.
I created this slice and entered it in the Australian Table Magazine (now called BBC Australian Good Food).
I was lucky to win a prize and get published in the magazine.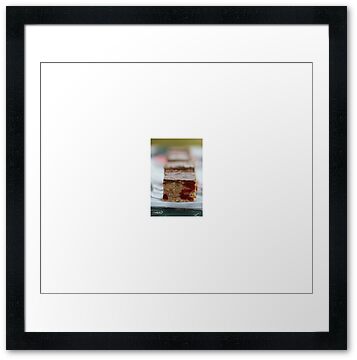 :
*Cherry & toasted Almond Slice
Base*
250g pkt plain sweet biscuits (crumbed) (8 oz)
eg: arrowroot or milk coffee
100g pkt glased cherries, cut into pieces (3 oz)
1 cup coconut
395g tin sweetened condensed milk ( 13 – 14 oz)
125g butter (4 oz)
100g toasted sllivered almonds (or chopped) (3 oz)
Topping
250g block of milk chocolate with almonds (8 oz)
60g copha (2 oz)
Line base of a 18cm x 20 cm lamington tin with baking paper, letting it come up the sides.
Combine biscuit crumbs, cherries, coconut and the almonds in a bowl. Place butter and condensed milk into a small saucepan and stir until disolved and boil on a low heat for one minute.
Pour butter mixture into dry ingredience and combine well. Press into pan and refrigerate.
Topping.
Break chocolate into pieces and add chopped copha and melt in the microwave or over boiling water.
Pour over slice and spread over the top
:
FEATURED IN:
Recipes along with photos on 21/06/2009 &
Recipes along with photos on 04/07/2009