Photo taken of my cooking in my home in Diamond Creek, Melbourne.
Featured in:
Recipes along with photos
Your living space on 25th January, 2009
Sweet Tooth 28/Sep/2010
Food for thought 22/Sep/2012
:
Shortbread base.
125g butter
1/4 cup (40g) icing sugar mixture or icing sugar
1 cup plain flour.
Mix well together with electrict mixer to combine. Line with baking paper. Press mixture into a small slab tray or squar tin. Cook for 12 minutes until base colours just a bit.
Preheat oven to 180oC or 350oF
Topping
2 eggs lightly beaten
3/4 cup castor sugar
1/4 cup self raising flour
1/2 cup glace cherries cut in half or a small packet 100g
1/4 cup desiccated coconut
1/2 cup cashews or pecan nuts chopped (or nuts of choice)
1 teaspoon almond essence (you could use vanilla if you wish)
While base is cooking make topping. Combine all ingredience well and pour over base and cook for a further 15 minutes until golden.
Let cool in tin. Remove when cold.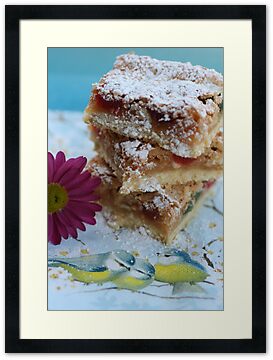 :