Featured in:
Recipes along with photos 6/may/2009
No 1 Artists of Redbubble 14/feb/2010
Chocoholics Anonymous 19/Jul/2011
Cupcake Corner 02/Aug/2011
You Living Spaces 18/Sep/2011
Cupcake Corner 23/Apr/2012
Food For Thought 04/Sep/2012
The Luscious Food House 30/Nov/2012
Thanks so much to the hosts
As at 24/Apr/2012
1335 views
Many thanks
Photo taken in my home Diamond Creek, Melbourne.
Cupcakes

:
125g (40z) soft butter
3 eggs 60's
1 teaspoon vanilla or vanilla paste
1 1/2 cups plain flour
1 1/2 teaspoons baking powder
2/3 cups caster sugar
1/4 cup milk
Heat oven to 180o/c (350oF)
Place all ingredience into a bowl and with a electric beater blend until well combined.
Place patty cased into the patty tray and spoon the mixture 3/4 the way up the case. Bake for 18-20 mins. Test them with a skewer to make sure they are cooked. Cool on a wire rack.
Icing
1 large tablespoon cocoa
i large tablespoon butter
hot water
icing sugar. (about 1 cup)
Melt butter and mix in cocoa. Add a small amout of hot water and sift in icing sugar. Stir until well combined add more hot water if needed to make a paste. Ice the tops of the cakes and decorate as the mood takes you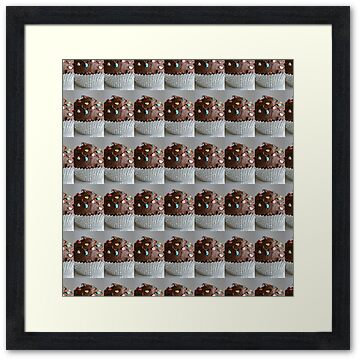 :