#Click on image to view it larger – It looks better that way!#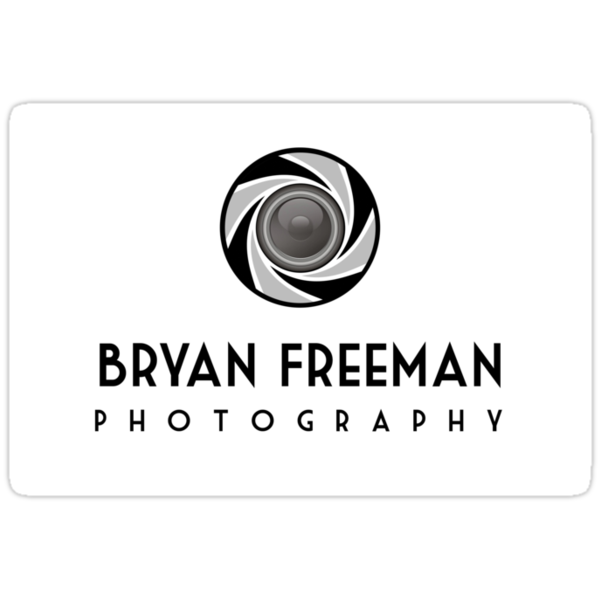 Took this when the Sydney Vivid Festival was on. I walked around this structure a few times over a few days trying to get a good perspective on it. Hopefully I succeeded.
Canon 7D
Canon Lens 15-85mm
Timelapse
22 July 2010 Featured in Shapes & Patterns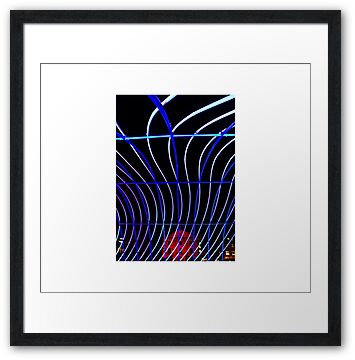 Sydney's Vivid Festival ran from 27 May to 21 June 2010 and it was a feast for the eyes.
Seven historic buildings had images and designs projected onto them from 6:00pm until midnight. The images were repeated/rotated at regular intervals so you didn't have to stand around in the cold biting wind for long to see them all.
The seven buildings that were lit during the festival as follows:
St Mary's Cathedral
Hyde Park Barracks
The Mint
Parliament House
State Library of New South Wales
Palace Garden Gate
Sydney Conservatorium of Music
The Sydney Opera House also had some wonderful designs projected onto it as well.
This is a single photo converted from RAW to jpg.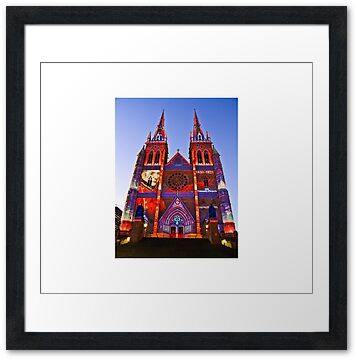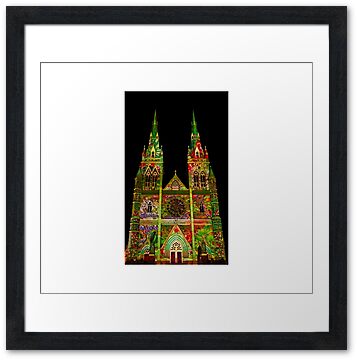 Further info about Governor Macquarie is below which is taken from the folloing website:
http://www.hawkesburyhistory.org.au/articles/ma...
The year 1810 saw his arrival in the Colony of New South Wales, just after Lachlan Macquarie was installed governor of New South Wales, sealers stumbled on a remote Southern Ocean island so naturally the island took his name. The island like so many other institutions, structures and places bear testimony to the claim Macquarie "Father of the Nation"
Macquarie was born on the island of Ulva in the Inner Hebrides, Scotland, on 31st January 1761. His father was a carpenter by trade who around 1772 moved his wife and family to Mull, where he leased 75 acres from the Duke of Argyll.
Lachlan Macquarie, was a cousin of the sixteenth and last chieftain of the clan Macquarie, while Macquarie's mother, Margaret, (1728-1810) was the only sister of Murdoch Maclaine, chieftain of Lochbuy in Mull. She bore her husband at least seven children – six sons, of whom four survived: Donald (1750-1800), Lachlan (1761-1824), Charles (1771-1835), and Hector (d.1778) – and a daughter, Elizabeth.
His uncle Murdoch paid for his education and in 1776 at age 15, young Lachlan volunteered for British Army as a volunteer. In 1777 young Lachlan became an ensign in the 2nd battalion of the 84th Regiment, known as the Royal Highland Emigrants, and served in Canada at Halifax and other parts of Nova Scotia. He was commissioned a lieutenant in the 71st Regiment in January 1781 and performed garrison duty in New York and Charleston at the closing stages of the American War of Independence. In June 1783 he was transferred to Jamaica and 12 months later he was placed on half pay.
Returning to Scotland, Macquarie for the next few years, lived a farmer's life with his mother and siblings at Oskamull, on Mull, before taking up a lieutenant's commission in 1787 in the 77th Regiment, beginning a long period in India, where he saw much active service in the struggle to gain control of the subcontinent for Britain. He also became military secretary to Jonathon Duncan, Governor of Bombay.
In 1793 he married Jane Jarvis, the youngest daughter of Thomas Jarvis, Chief Justice and Member of Council of the Island of Antigua, but their marriage was brief – she died childless of tuberculosis at Macao, in China, in 1796.
In 1801, while military secretary to Jonathon Duncan, Governor of Bombay, Macquarie appointed deputy-adjutant-general to the 8000-strong army under Major-General David Baird. He was sent to Egypt to expel the French. The army was engaged in little action, but in Alexandria, Macquarie met his brother Charles, who was also a serving army officer. They discussed future plans for purchasing land on the Isle of Mull.
On the 11th February 1802 Macquarie was promoted to major with the 86th Regiment He returned to England in 1803 to attend to financial matters and to enjoy the social whirl of London after so many years abroad. He was twice presented to the King and Queen, dined with the aristocracy, attended balls and the theatre, had his portrait painted by noted Cornish artist, John Opie, and finally, after 12 months, travelled to Scotland to visit family and friends.
On 25th April 1805 Macquarie sailed for India where he was advanced to the rank of lieutenant colonel in the 73rd Regiment. After serving in northern India until 1806 he undertook to return to Britain carrying government despatches. After sailing from Bombay to the Persian Gulf, where he narrowly escaped drowning, he then travelled overland to London via Baghdad, Moscow, and St Petersburg. Macquarie's main aim in returning to Britain was to marry his distant cousin Elizabeth Henrietta Campbell, of Airds, whom he had met in 1804 to whom he had been secretly engaged since March 1805. She had become impatient with his seeming delay, particularly when it became apparent that his tour of duty would be for four years. They married on the 3rd November 1807. The bride was 29, and the groom 46. She bore him a daughter, Jane, on the 15th September 1808, but unfortunately, the child died on the 5th December, the same year.
Mrs Elizabeth Macquarie
In April 1809 Macquarie was appointed Governor of New South Wales, designated to take over from William Bligh (of the mutiny on the Bounty fame), whose controversial governorship ended with the "Rum Rebellion". Lachlan and Elizabeth Macquarie sailed with the 73rd Regiment from Portsmouth in the storeship Dromedary, escorted by H.M.S Hindostan, in May 1809, arriving at Port Jackson on the 28th December. He took up his commission as governor on the 1st January 1810.
Macquarie understood that comprised settled communities as well as penal institutions. He dealt with an increase in the number of convicts sent to the colony by employing them in an ambitious program of public works From the outset, Macquarie saw the colony of New South Wales (including its daughter colony Van Diemens Land) as a settled community as well as a penal settlement. However, his term of office also coincided with an increase in the number of convicts sent to the colony. His solution was to commence an ambitious programme of public works (new buildings, towns, roads) to help absorb these numbers. He encouraged well-behaved convicts into the wider community through tickets-of-leave.
During the latter half of 1810, Macquarie accompanied by Mrs Macquarie, Capt. Antill, Dr. Redfern, Mr. Evans, Ensign Maclaine, Capt. Cleaveland, Mr. Meehan and Mr. G. Blaxland made a tour of the colony surrounding Sydney, taking in the Hawkesbury Nepean Rivers. During this tour Macquarie named the five towns of Richmond, Castlereagh, Pitt Town, Wilberforce and Windsor. These towns are now referred to as the five Macquarie towns. (an extract from Macquarie's diary discribes the Hawkesbury section of the tour)
This policy of encouraging convicts and former convicts (emancipists) brought him into conflict with an influential, conservative, section of the local society. This group, known as the "exclusives", sought to restrict civil rights and judicial privileges to itself. Many of these free settlers also had influential friends in English political circles. Frustration and recurring bouts of illness led him to submit his resignation on several occasions. On the 28th March 1814, after six miscarriages, Elizabeth had given birth to a son named Lachlan.
The colony's first military governor (previous holders of the office had all been navy men), Macquarie was able to draw on his experience as a staff officer in the raising and organization of colonial revenue-measures in this area included the introduction of coinage (1813) and the establishment of the colony's first bank (1817). Macquarie encouraged exploration to expand the pastoral land available and so improve the agricultural production and livestock numbers-the route over the Blue Mountains, discovered in 1813, gave pastoralists access to the western plains. An enduring testimony to Macquarie's governorship are the public works, carried out with the assistance of Francis Greenway (1777-1837), a former convict appointed civil architect, which transformed Sydney and Parramatta.
A serious illness in 1819 almost proved fatal. When he left office in 1821 Macquarie could list 265 works carried out during his term. They included new army barracks and three new barrack buildings for convicts, roads to Parramatta and across the Blue Mountains, a hospital, castle-like stables (now housing the New South Wales Conservatorium of Music) and five planned towns built out of reach of floodwaters along the Hawkesbury River. Macquarie pursued a policy of allowing deserving emancipists (ex-convicts) to enjoy the same rights as free settlers. In 1810 he made two emancipists magistrates (see Andrew Thompson) and invited them and other emancipists to dine at government house. This and other aspects of his administration incurred the displeasure a group of military and free settlers.
He was the first to see above the limits of the convict settlement or the opportunities for self-enrichment, which had characterised the early colony. His vision, by 1821, was shown in a public building and town-planning program that had established a solid infrastructure for the colony. Exploration had reached deep into the inland, and settlement and agriculture were following, north and south along the coastline and inland beyond Bathurst. Agriculture was, in fact, creating the conditions for the colony to become almost economically self-sufficient. The non-Aboriginal population of the colony (including Van Diemen's Land) was approximately 37,000, of whom at least 8,000 were free settlers or born in the colony.
Complaints to England resulted in the dispatch to New South Wales in 1819 of English judge John Thomas Bigge (1780-1843) to inquire into the affairs of the colony. Bigge's report was critical of Macquarie, in particular his spending on public works. In 1819 after two unsuccessful attempts to resign he was finally allowed to terminate his term as Governor in 1821 and return home to defend the charges made against him. In February 1822 Macquarie, Elizabeth and seven-year-old Lachlan departed for England. After settling on his estate on the island of Mull, Scotland, he set about defending himself against claims in Bigge's report that he had abused his office while in New South Wales.
In 1822-23, worried about Elizabeth's health, Macquarie took his family, with servants and a tutor, on a grand tour through France, Italy and Switzerland. He finally returned to his Jarvisfield estate on Mull in January 1824, but had to travel to London in April 1824 to secure the pension that he had been promised. While there he suffered a kidney inflammation, which rapidly became worse. He died in London on the 1st July 1824, in the presence of Elizabeth and son Lachlan, aged 63.
The National Trust of Australia administers his grave on Mull. He is remembered in many place names, including Macquarie Street, Sydney, Lake Macquarie, New South Wales, Macquarie Harbour, Tasmania, the Antarctic dependency of Macquarie Island and Macquarie University, Sydney; named for his wife Elizabeth are Campbelltown, Elizabeth Bay and Mrs Macquarie's Chair (a headland jutting into Sydney Harbour beside Sydney Cove).
If you'd like to see my work that has been FEATURED (WOOHOO!) in a Group then Click -→ FEATURED!
The links below will take you to various sets of my work: