Please DO NOT "pin" or share my images on Pinterest or any other image sharing site/blog/website. All images are ©Copyright and do not belong in the public domain.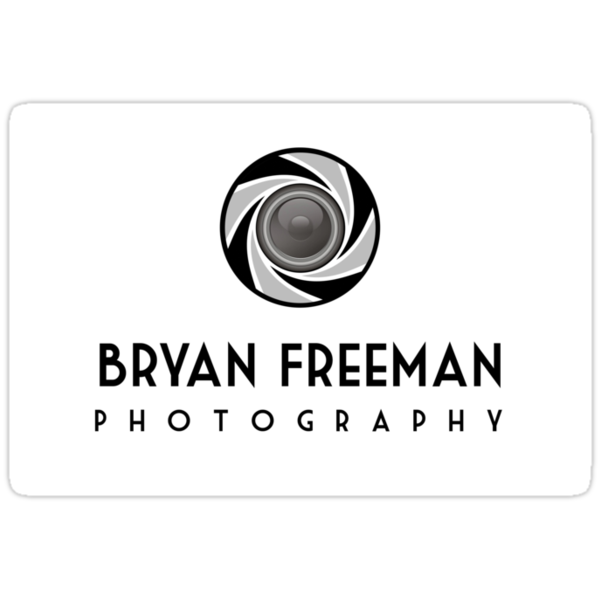 Click on image to view it larger – It looks better that way!
My first panorama of two photos combined in PS has been re-done as I really wasn't happy with the first version. The colour of the sky was all over the place like mad woman's (or man's) breakfast! This version is much, much better and I like this version oodles more than my first effort.
Canon 7D
Canon Lens 15-85mm
4 August 2010 Featured in Live, Love, Dream

Taken from near the top of one of the mountains near Esfahan (aka Isfahan) Iran.
We caught a cable car up to the top of the mountain after waiting in a queue for about 45 minutes. I was told by my lovely wife that in summer you can expect to wait in the queue for two hours or more in 40 – 50 degree C heat! Gee, that sounds like a lot of fun. :-( We were there in early Spring so the temperature was quite cool, but nice. The view is fantastic up here and I would've liked to stay a bit longer.
Near where these photos were taken was a picnic spot with table etc with an Iranian family. We stopped closer to them and I took 3 photos for panoramic photo merge I'm going to do and upload soon(ish). I could hear the family talking and heard the word "Deutsche". I asked my wife if they thought I was German and she said yes. They also think they should offer you some food and they were having a discussion about this and if I was in fact German. (Which I'm not).
As an aside, when we were buying some nice statues in the bazaar that are only made in Esfahan and not found anywhere else, the fellow serving us asked me in near perfect English if I was Russian? I figured these questions/discussions on my nationality must have something to do with my blonde hair.
I would have liked to stay on this mountain a bit longer but my wife wasn't feeling too crash hot with all the attention (some young fellas had been smart arses towards us) so we decided to get back in the 45 minute queue to go back down in the cable car. Funnily enough, the couple who were in front of us waiting in the queue to go up were again in the queue in front of us to go back down again.
Esfahan is a great city to visit with lots of places to see. There are a multitude of small shops with artists selling their work and also, producing it while they wait for a buyer.
Esfahan is well known for their artists who produce miniature paintings. They also produce fantastic enamelled copper plates with awesome intricate designs. You get used to the cheap prices very quickly and when a salesman in the bazaar says the price for a very intricate enamel plate is $25.00, you find it exhorbitant and let them know. Of course, they want to haggle and this is where it pays to have a local step in and help you out. It's all over in a matter of a few minutes and all that is left for you to do is shell out the money. ;-) Now, you're the proud owner of a beautiful, intricately painted enamel copper plate.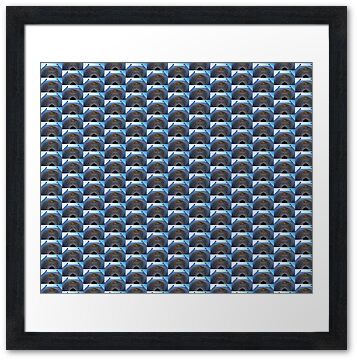 Inside Imam Mosque below: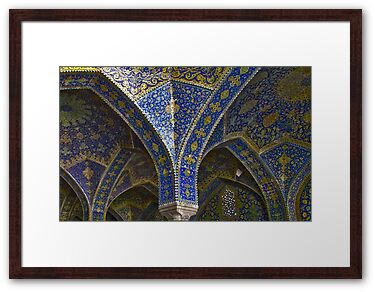 More info on Imam Mosque below from:
http://www.iraniantours.com/attractions/isfahan...
Imam Mosque is a mosque in Isfahan stands in south side of Naghsh-i Jahan Square.
The mosque is also known as Shah Mosque, Royal Mosque and Abbasi Jame Mosque.
Built during the Safavids period, it is an excellent example of Islamic architecture of Iran, and regarded as the masterpiece of Persian Architecture. The Imam Mosque of Esfahan is one of the everlasting masterpieces of architecture in Iran and all over the world. It is registered along with the Naghsh-i Jahan Square as a UNESCO World Heritage Site. Its construction began in 1611, and its splendor is mainly due to the beauty of its seven-color mosaic tiles and calligraphic inscriptions.
The portal of the mosque measures 27 meters high, crowned with two minarets 42 meters tall. The Mosque is surrounded with four iwans and arcades. All the walls are ornamented with seven-color mosaic tile. The most magnificent iwan of the mosque is the one facing the Qibla measuring 33 meters high. Behind this iwan is a space which is roofed with the largest dome in the city at 52 meters height. The dome is double layered.
The acoustic properties and reflections at the central point under the dome is an amusing interest for many visitors. There are two seminaries at the southwest and southeast sections of the mosque.
The architects of the mosque are reported to be the following masters:
• Ustad Ali Akbar Isfahani
• Ustad Fereydun Naini
• Ustad Shoja' Isfahani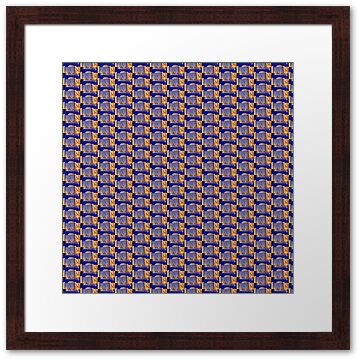 Part of the bazaar that encircles Imam Square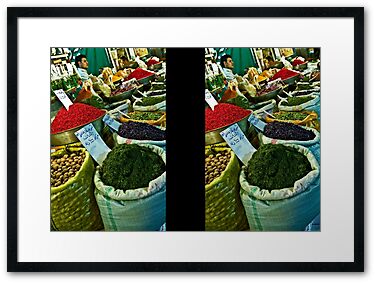 Further info from http://archnet.org/library/sites/one-site.jsp?s...
The two kilometer bazaar is a vaulted street that links the old city, the Friday mosque and old maydan with Shah Abbas' new maydan. The entry at the Maydan-i Shah is marked by a large portal that mirrors in form the entrance portal of the Shah Mosque. The iwan of the bazaar portal is flanked by galleries and crowned with the representation of Sagittarius in mosaic tile.
The portal accesses the royal bazaar, the royal mint and the royal caravanserai, leading to the major artery of the bazaar. Mosques, hamams and khans lead off this main street, much of which is lit by circular openings cut into the brick vaults, shafts of light dotting the passage at certain times of day.
Further details of EsfahanIsfahan below from Wikipedia
http://en.wikipedia.org/wiki/Esfahan
Isfahan is located on the main north-south and east-west routes crossing Iran, and was once one of the largest cities in the world. It flourished from 1050 to 1722, particularly in the 16th century under the Safavid dynasty, when it became the capital of Persia for the second time in its history. Even today, the city retains much of its past glory. It is famous for its Islamic architecture, with many beautiful boulevards, covered bridges, palaces, mosques, and minarets. This led to the Persian proverb "'Esfahān nesf-e jahān ast" (Isfahan is half of the world).
Beautiful bridges in Esfahan below:
Si-o-Seh Pol – Esfahan – Iran – Daylight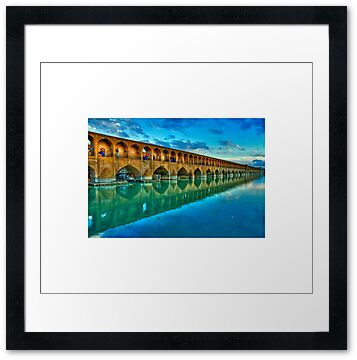 Si-o-Seh Pol below at night

The next bridge along from this one is Ferdowsi Bridge: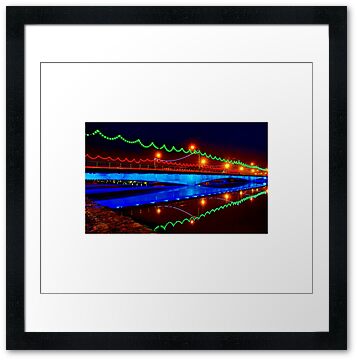 If you'd like to see my work that has been FEATURED (WOOHOO!) in a Group then Click -→ FEATURED!
The links below will take you to various sets of my work: