Looking back to "home" from the harbour mouth at Clovelly. (By Simon)
Oil on Canvas – Small around 14" by 10".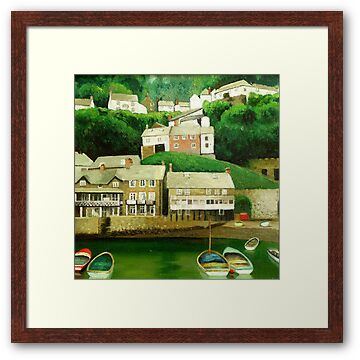 Beautiful Clovelly!!!
Mentioned in the Domesday Book, it has its origins rooted deep in Saxon times. Often referred to as Devon's Secret Treasure, this lovely place has remained largely unchanged for centuries.
With its single cobbled street plunging in wide steps between quaint cottages to the sea some half a mile below, Clovelly is not for the faint hearted.
You'll need plenty of stamina and comfy shoes as transport up and down the steep slopes is on foot – or on the back of a mule.
Those who do decide to descend the narrow slope are richly rewarded by the sight of flower-decked cottages all tantalisingly different in shape, size and colour.
Cottages tumble over one another and at some of the steepest points, the door of one house looks out on the roof of its neighbour.
Once below, you are greeted by a small curving quay with an old inn facing the sheltered harbour estuary.
It's alive with pleasure boats and fishing craft, many of which provide crab and lobster to the cafes and inns that populate this picturesque village.
The Hamlyn family, Lords of the Manor, first occupied Clovelly Court in 1738 and credit to them for maintaining many of its cottages.
Both house and village are now owned by a trust.
Take a boat ride from Ilfracombe to the National Trust island of Lundy, a peaceful and unspoilt granite outcrop where the Atlantic Ocean meets the Bristol Channel – with nothing lying between it and the east coast of America.