A 12 vertical frame (2 sweeps of 6, bracketed 3 shots each frame. 36 images in all) HDR panorama of this old Chapel.
PLEASE VIEW LARGER
Canon 400D, Canon EF-S 17-85mm IS USM Lens @17mm, ISO 400, f11, bracketed -2, 0, +2 EV's. Tonemapped in Photomatix Pro, stitched in Autopano Pro and finished in CS5. Nodal Ninja panorama head and tripod used.
Max print size 26ins x 29ins
195 views, 29 favouritings and 8 Features at 28th May 2011
Not far from the martyrdom site of Thomas Becket, the easternmost end of Canterbury Cathedral opens into a semi-circular chapel lit with high stained-glass windows. Known as the Corona Chapel (having once housed a portion of Becket's skull as a relic), the East Chapel now directs visitors' attention toward the more recently slain. A sign on the wall explains:
Throughout the centuries men and women have given their lives for Christianity. Our own century is no exception. Their deaths are in union with the life-giving death of Our Lord Jesus Christ the Savior of mankind. In this Chapel we thank God for the sacrifice of martyrdom whereby truth is upheld and God's providence enriched. We pray that we may be worthy of their sacrifice.
To both sides of the East Chapel's entrance, two lecterns hold identical small three-ring binders. Plastic-sheeted pages inside offer brief biographical sketches of more than a dozen twentieth-century martyrs, among them the Reverend Martin Luther King, Jr., Archbishop Oscar Romero, and the priest and hermit Charles de Foucauld. Two nuns, Edith Stein and Maria Skobtsova, are included, along with Bonhoeffer and Kolbe, as victims of the Nazi concentration camps.
The cathedral designated its East Chapel "The Chapel of Saints and Martyrs of Our Own Time," following the murder of Anglican archbishop Janani Luwum of Uganda by Idi Amin's forces in 1977. "His killing had a great effect on us Anglicans," recalls former Canterbury canon and Welsh writer A. M. Allchin, who preached the Sunday following the assassination. "I felt a stronger sense of Thomas Becket than I ever had before because Janani Luwum was an archbishop killed by a king. I felt the stones of Canterbury shuddered in sympathy."
(Source:www.touchstonemag.com)
Featured in the Retired and Happy Group's 'Daily Double' 19th May 2011

Featured in the 'HDRi – no holds barred' Group 19th May 2011

Featured in the 'Safe Haven' Group 19th May 2011

Featured in the 'Take Me Higher High Dynamic Range' Group 19th May 2011
Featured in the 'Postcard and Destinations' Group 21st May 2011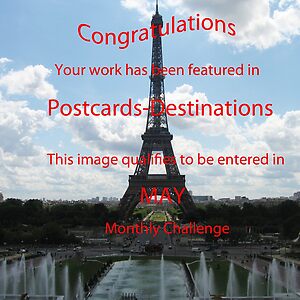 Featured in the 'Heritage Listed and Other Trusts Sites Worldwide" Group 23rd May 2011
Featured in the 'Christian Churches, Statues and Crosses' Group 25th May 2011


Featured in the 'Art Universe' Group 27th May 2011