An attempted sunset shot at Kynance Cove, Cornwall, England. Attempted in the sense that I thought it was a good opportunity – got there early but the clouds came over and you can see the rain on the horizon! 5 mins later there was a downpour – the sunset arrived but was unable to capture it because of the heavy rain!!!
Taken on The Great West Country Getaway 2010
373 views and 22 favouritings at 31st August 2010
Canon 400D, Canon EF-S 17-85mm IS USM Lens at 24mm, ISO 100, f22, +2,0,-2 EV's and NDx4 filter. Tonemapped in Photomatix Pro 3.2.7, stitched in Autopano Pro and finished in CS4
Kynance Cove is a cove in southwest Cornwall, United Kingdom. It is situated on the Lizard peninsula approximately two miles (3km) north of Lizard Point. Kynance Cove and the surrounding coast is owned by the National Trust.
The cove became popular in the early Victorian era, with many distinguished visitors including Alfred Lord Tennyson.
The BBC has described Kynance Cove as "one of the most beautiful stretches of coastline in the South West." Source: Wikipedia
Featured in 'Retired and Happy' Group 3rd May 2010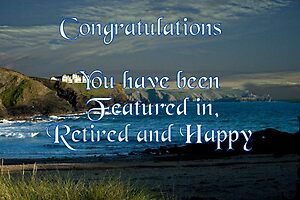 Featured in 'Around The World' Group 3rd May 2010
Featured in 'Featured Photographers' Group 31st August 2020

: CW7YM-3779Q-FYFSJ