Another Cathedral panorama! This time Truro Cathedral, Cornwall, England. This was taken whilst on
The Great West Country Getaway
on wet day when
Anna
and myself were joined by
Tina
and
Dave
for a trip to Truro.
BEST VIEWED LARGER
1119 viewings 35 favouritings, 12 Features and 1 Challenge Top Ten finish at 14th January 2012
This image is a 50% reduction of the original for perhaps a better view on RB. Original size 36ins high x 29ins wide.
The Cathedral of the Blessed Virgin Mary, Truro is an Anglican cathedral located in the city of Truro, Cornwall, in the United Kingdom. It was built in the Gothic Revival architectural style fashionable during the period, and is one of only three cathedrals in the United Kingdom with three spires.
The See (or Diocese)of Truro was established in 1876 and the first Bishop Edward White Benson consecrated in 1877: this was the first cathedral to be built on a new site in England since Salisbury Cathedral in 1220. Construction began in 1880 on the site of the sixteenth-century parish church (St Mary the Virgin) to a design by the architect John Loughborough Pearson, a leading figure of the 19th century Gothic Revival. The design combines the Early English style with certain French characteristics, chiefly spires and rose windows. Truro's resemblance to Lincoln Cathedral is not coincidental: Pearson had been appointed as Lincoln's Cathedral Architect and the first Bishop of Truro, Edward Benson, had previously been Canon Chancellor at Lincoln. The central tower and spire stands 250 feet (76 m) tall, while the western towers reach to 200 feet (61 m).
30 original frames in RAW, saved as TIFF stitched in Autopano Pro, created 3 images exposures -2,0 and +2 EV's, tonemapped in Photomatix, cropped and processed in CS4
Canon 400D, Canon EF-S 17-85mm IS USM lens at 28mm. ISO 400,f8. Nodal Ninja 3 Pano Head and tripod used.
Featured in 'Retired and Happy' Group 1st April 2010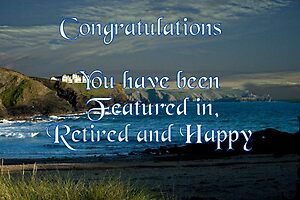 Featured in 'Maximum Exposure' Group 1st April 2010
Featured in 'A View Somewhere…..' Group 10th April 2010

April 2010
Featured in 'Christian Churches, Statues and Crosses' Group 17th May 2010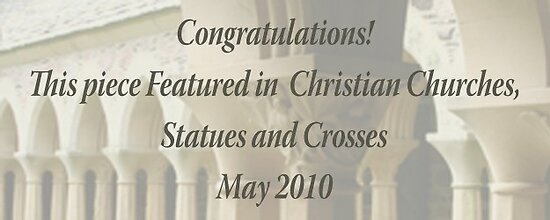 CONGRATULATIONS on having your work featured in the HISTORIC CHURCHES Group & also as FEATURED ARTIST in the group too. June 2010
Featured in 'High Quality Images' Group 8th June 2010

Featured in 'Your Country's Best' Group 10th June 2010

Featured in 'Solo Exhibition' April 2011

Featured in the 'Red Bubble Boomers' Group January 2012

Featured in the 'Religions of The World' Group January 2012

Featured in the 'Artists Universe' Group January 2012

Featured in the 'Addicted Photographer' Group January 2012
: CKQV6-DRDUJ-7KGUQ