Chapter House at Canterbury Cathedral, Kent, England.
253 views at 23rd June 2010
This magnificent chamber is the largest chapter house in England. Here the monks would conduct their daily business and organize the running of the cathedral and priory. The height of the room is extraordinary. The central area of the chapter house is an open space, while stone seats ring the walls under arched stone niches. These niches are where the monks would sit in ascending age order. At the far end is a stone seat raised on a dais, where the prior would preside over meetings.
The ceiling here is incredible especially considering the House was built between 1304 and 1320!
PLEASE VIEW LARGER
Originally shots in RAW, each bracketed -2,0,+2 EV's, tonemapped in Photomatix Pro to give a final HDR image, stitched in Autopano Pro and finished in CS4
Canon 400D, Canon EF-S 17-85mm IS USM lens @ 22mm. ISO 400, f11.
Featured in 'The Ashes' Group 2nd February 2010

Featured in 'Christian Churches, Statues and Crosses' Group 7th February 2010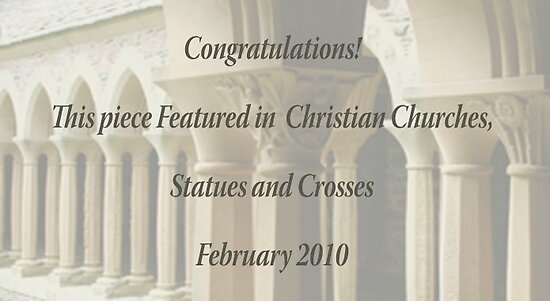 Featured in the 'Photomatix HDR' Group 12th February 2010

Featured in 'A view Somewhere ….' Group 17th February 2010
Featured in 'HDR Photography' 23rd June 2010
I was in awe of the workmanship on the ceiling and it can be viewed below.
: C6EP9-MG5KL-GUFY7