THE NEVER-ENDING ADVENTURES OF OUR TWO CATS, MAO AND MITCH.
FEATURED BY A LITTLE BIT OF YOU GROUP – 17th AUGUST 2012

FIRST OF ALL – A POEM TO INTRODUCE THEM:
Here's a poem I wrote about them. Mitch is the hairy one who leaves fluff all over the carpets.
MITCH AND MAO
We are two little pussycats,
Our names are Mitch and Mao,
We're really rather haughty;
In our presence you must bow.
Our humans truly love us,
They cater to our needs.
We humour them with mewings
And purr when we get feeds.
We sleep upon their duvets
And scratch upon their door
And one of us leaves lots of fluff
Upon their nice clean floor.
We sew not, neither do we spin,
We sleep and eat and poo
And once week, if in the mood,
We catch a mouse or two.
Dave Edwards – 2009
Our two cats, but mainly the younger one, get up to adventures that make us laugh. I have often mentioned them in my Journals, but today I have decided to compile the stories into a piece of writing, which I will update as new adventures occur.
One night, I climbed the metal ladder into my attic study to alter an acrylic painting I had been working on.
Rattle rattle … up climbed Mitch, our (then) seven month old lively kitten. First … take a look at the little guy … who couldn't love him :)
Anyway … There I was, altering the sky in an acrylic painting I was working on.
BOUNCE … a fluffy bundle of joy landed on my bench, inches away from my bowl of water.
I lifted him back to the floor.
BOUNCE …. back he comes. Down he goes again.
BOUNCE … oh, what the heck. I continue my painting.
CRASH … down goes my wooden mannikin.
NIBBLE NIBBLE … Mitch has discovered my jar of pencils.
SPLOOSH … his fluffy white paws are in my water bowl.
SPLASH … he's shaking his paws dry over my painting … agghhh!
'NUTHER SPLASH … He's knocked my bowl of water sideways, spilling a considerable amount in the process.
Let's call it a day. I clambered down the ladder to clean my brushes in the bathroom. Mitch heard the tap, assumed I was having a bath and clatter clattered … down the ladder … flew through the door into the bathroom and landed in his spectators' gallery at the corner of the bath where he usually supervises my ablutions.
Anybody want a kitten …. no … only joking … I love the little blighter to bits :)
:)
We adopted our kitten Mitch in July 2008 and he and Mao (our two-year-old) have never got on very well together. The problem lies in the fact that we once fostered a cat that attacked Mao and sadly she resembled Mitch. Mao will eventually realise that Mitch is just a loveable little pest who means him no harm. Today (5th January 2009) we had a rare glimpse of them having a truce between their squabbling :)
26th January 2009 – The other night, our older cat, Mao, was lying on our bed and my bedside table-lamp was casting a shadow of him on the wall. Mitch (our eight-month old kitten-cat) was staring intently at the shadow and every time Mao moved his head Mitch would leap at the shadow. Mao was lazily enjoying the whole spectacle, unaware that it had anything to do with him. It kept Mitch happy for half an hour and gave Mao time to relax, because normally Mitch is jumping on top of him wanting to play funfights.
A SCARY BATH-TIME ADVENTURE …
Yes, who could resist such a title … :)
Every morning, I like a luxurious soak in the bath and our kitten-cat Mitch has developed the habit of sitting on the back of the bath behind my head to watch the water splashing from the taps.
This particular morning was no exception and after a while he decided to walk along the narrow side of the bath nearest the wall. Half-way along, he realised the bottles of shampoo, etc. were blocking his pathway and as he is not great at going into reverse he decided to leap across me to the right side and thus onto the carpet. He achieved a successful jump … fortunately for me as he has sharp claws.
I congratulated him on his jumping skills, but I must have sounded too enthusiastic because, elated by his own success, he decided to repeat the performance from the right side of the bath. He leaped and … yes you've guessed … landed in the bath with me. Apart from a very small scratch I didn't suffer any damage and I managed to grab our little hero before his head went under.
I dumped him onto the dry floor and he stopped to assess the damage. He normally has a beautiful fluffy tail, but of course, as it had been in the water, it had taken on the likeness of a rat's tail. This confused Mitch, who must have imagined he'd left his tail behind in the bath. He ran around in circles meaowing pitifully and trying to catch his tail. Eventually he managed and spent the next half-hour giving it lots of t.l.c.
Here is a photo of MItch that shows his big fluffy tail and another photo that shows his shrunken rat's tail:
*11th February 2009 – *My wife took this photo today of our mischievous little cat Mitch. He leaped onto one of our kitchen wall-cupboards, which as you can see is close to ceiling height. Apart from the fact that he had to use our glassware and plates shelf as a stepping stone, we have the top of the unit filled with soup mugs. Trish (my wife) said he walked around by putting a paw at a time into the mugs.
Sunday, 15th February 2009 – well, after all those months of shielding Mitch from danger, he's finally managed to break free and achieve a life-long ambition …. some naughty birds tempted him up a tree … here's the resulting photo:
23rd February 2009 - … yesterday, from our window, I spotted this event … Mitch was chasing Mao across the lawn. On reaching a plant trough, Mao leaped gracefully over it and Mitch (typically) went splat into it. Like the gentleman he is, Mao waited for Mitch to compose himself and the chase resumed :)
24th February 2009 - My scanner isn't working too great … turns out young master Mitch has been chewing the 15 volt cable. What's more scary though is that he's been chewing the mains cable into my computer. It may be that he is teething and will grow out of the habit. He could have been trying to pull the plug out … a pastime of his. We had a rabbit once who chewed a cable and bit through the neutral wire, knocking himself out. Another millimetre and he would have bitten through the live wire and fried himself.
27th February 2009 – Bored withchewing my computer cables, Mitch has discovered a hiding-place in the tiny triangular section formed by my drawing-board at a 45 degree angle to the bench. Every now and then a cheeky little paw will stretch out from under my drawing surface to grab at a brush or pencil. I just caught him in time as a paw was reaching into a palette full of wet acrylic paint.
Here is a photo of him chewing a pencil.
1st March 2009 – Today I was sitting at the computer desk doing some painting from an image on the screen. Mitch was trying to chew the cable of my mouse and I shooed him away. Seconds later, he was at the other end of the room, at my painting bench, pulling a brush out of the water bowl where it was soaking and carrying it to my drawing board (thankfully minus a painting). He dropped it there, so I walked over to sort things out, sat down and realised I was sitting on something soft and warm that was starting to move. Yes, you've guessed, it was a sleeping Mao (our older cat).
Saturday, 28th March 2009 – We'd left some savoury rice on the kitchen work top and Mitch ate a large hole in the packet and was tucking into dried savoury rice with peppers.
1st April 2009 – Today, Mitch appeared over the fence dragging behind him eight feet of tinsel. Goodness knows where he got it from! Here he is with it:
28th April 2009 – Mitch is the first talkative cat we've had. Mao speaks when he wants feeding or to go outside, but Mitch says hello when he passes us and often runs in from outside with a tale to tell. Mao says Meaow, but Mitch says Meahrow. Mao sneaks around; Mitch struts with is large fluffy tail erect like a flag. I was saying today that he is probably the cat equivalent of "camp."
Mitch follows us around the house like a puppy and is very funny. He doesn't like being cuddled but I tend to pick him up and cuddle him sometimes. To make me stop it, he shouts for Trish. He nearly deafened me last night. His mouth was right beside my ear and he let out a really loud, "Meahrow!!!"
Usually Mao sleeps on our bed (Mitch doesn't, because he sneaks under the duvet and bites Trish's toes) and in the early hours of the morning he likes to go downstairs and outside. As I am half-asleep, I like to get back to bed to finish my sleep, but Mao dithers on the stairs in front of me and takes an age. I usually tap (certainly not kick) his bum with my slippered foot and then he speeds up a little. Yesterday, Mitch was sauntering downstairs in front of me, also dithering. Without thinking, I tapped his bum with my toe and he ran down two steps, stopped, turned and glowered at me and then leaped at my foot and bit it … feisty little fellow. After that he was quite happy to be friends and follow me around again, but he does tend to like his revenge for any imagined wrongs.
16th May 2009 – Mao has settled down now he is three years old, but Mitch is only a year old and life is still a big adventure for him. He is no respecter of crockery and we have already lost a few pieces of china as a result of his mountaineering practice. He resembles a feather duster with two lovely big eyes in the centre, staring lovingly up at us from amidst a pile of broken china and who can scold him :)
22nd May 2009 – Mitch retched up a massive hairball for us today. He then wandered off. I found traces of him in our bathroom sink and have added a photo below. Bear in mind, it's a new pristine white bathroom … he sure transformed it by his presence :)
1st August 2009 - Someone left the crockery cupboard door open and Mitch decided the casserole dish was ideal for a bed :)
6th August 2009 – For a long time now we have suspected that Mitch has a little Maine Coon cat in his ancestry. We like Maine Coon cats and have read up on them. Today, without any prompting from us, the vet said that he obviously has some Maine Coon in his family. Yahoo – it's not official :)
13th March 2010 – Mitch's personality continues to develop and the pair of them have settled into a sort of love-hate relationship. Mitch loves to lick Mao's neck and Mao relaxes, basking in the luxurious pleasure of it all, until Mitch's mischievous side takes over and he gives in to the tempatation to bite Mao. Then the fur begins to fly – literally.
Mitch is so fluffy that he leaves a trail of fluffy fur everywhere he goes. Our dark blue lounge carpet gets vacuumed regularly, only to be messed up again as this feline majestically strolls across it.
This morning, we were woken by the spectacle of Mitch performing a juggling act with a dead mouse he'd brought in from the garden. Mao remained curled up on our bed, viewing the scene contemptuously, as he has killed many more mice than Mitch has.
We have recently had a fire-escape window installed in our bedroom and the cats were quick to realise its potential as a giant cat flap. Unless we remember to lock them downstairs, we end up getting out of bed to let them out of the window and then periodically get woken through the night as they call to be let in.
We have bought lots of costly toys for Mitch, but cardboard boxes remain his favourite toys:
The other night, I was woken at three in the morning by Mao, wanting to come in from the rain. To make sure I was fully awake our cold dripping wet ginger tom then shook himself on me … brrr!
Mitch and Mao have a tunnel, but Mitch uses it mostly – to leap from and attack Mao :)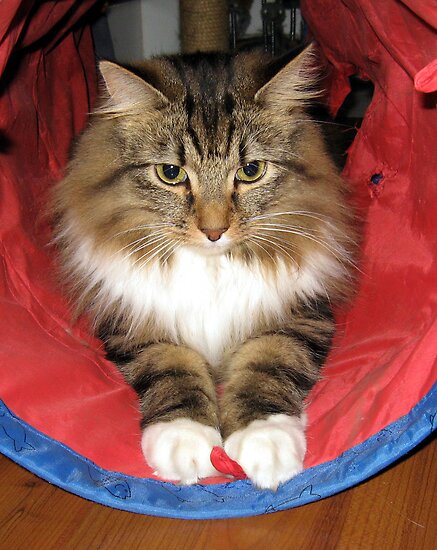 Here is a portrait I did of Mitch which I am quite satisfied with, as I think it captures his mischievous smile: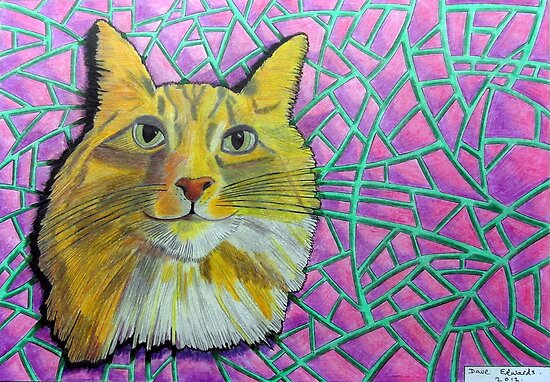 *20th July 2012 – *To update this account, Mao is now five years old and Mitch is four years old. Nothing much hs changed, as Mitch still hides bwhind doors and wallsa to pounce on Mao … and Mao still over-reacts and it ends in a fight …. then they go upstairs to our bed and both fall asleep.
13th December 2012 – My wife has been considering throwing away our electric cat fountain. She bought a fountain for the cats to drink from but it has been leaking. This morning I may have discovered the cause of the "leak" … Mitch, our loveable but odd cat, was paddling his paws in the water and splashing everywhere. There is a trail of wet paw marks across the kitchen floor and across the laminate flooring in the dining room and as far as the stairs 