As of 28th May 2011, this has been featured three times, favourited 7 times and viewed 485 times – thanks for your support everyone.
-—————————————————————————————-
Years ago I took a photo of a run down area of Blyth. This area has since been demolished and recently I had the idea of transforming my photo into my bendy buildings style. I used my six for a pound (£) coloured pencils from WH Smith and my Rotring Isograph pen .. oh, and I tinted parts of the picture with watercolour pencils before starting.
FEATURED IN FREEDOM TO SHINE GROUP – 28th December 2009

FEATURED BY SAFE HAVEN GROUP – 28th March 2010

FEATURED BY WALL OF THE WORLD GROUP – 29th March 2010
FEATURED BY BRICKS, BLOCKS, TILES & MOSAIC GROUP – 24th June 2011

FEATURED BY A PLACE TO CALL HOME GROUP – 1st September 2012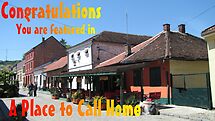 ---