FEATURED BY THE SHAMELESS SELF-PROMOTION GROUP – 27th May 2011

FEATURED BY THE PAINTERS UNIVERSE GROUP – 30th May 2011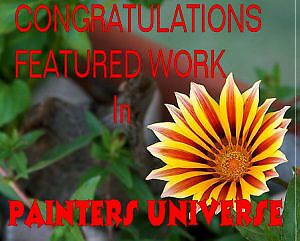 PLEASE NOTE – THIS IS NOT A RECENT PAINTING
Okay … excuse me please … I'm having a little nostalgia trip :)
I did this picture when I was seventeen, using those powdered poster paints the schools let us use.
Forty-one years ago! Time flies.
I gave up art shortly after that and it was another six years before I started drawing again. Up to 1980 I drew another 23 pictures. Following that I drew on average one picture a month until 1999 and then I stopped drawing for two years and started again in 2002 and have been drawing and painting since then.