I'm just an artist who loves shirts, weird designs, video games, and pop culture. Naturally, I make what I'd wear. If you have a problem with a design, or want to see something add/subtracted from them, tell me, and I'll see what all I can do for you!
Also, I now am taking requests! No guarantee that I'll be able to make it perfect, or at all, but I'd sure love to have a go at whatever shirt/poster/sticker/or other work you can't seem to find!
---
Popular Items: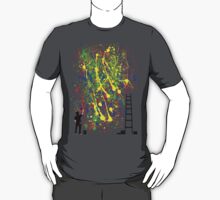 If you order one of my shirts, upload a photo of yourself in it, and I'll feature you on the shirts feed, including YOUR work!