Canon Rebel Xsi, Lens Canon 100 – 400mm
Regina, Saskatchewan Canada
776 Views and 14 RB Features – and 39 Favortings.Thank You So Very Much!
Featured In:
The World As We Know It or As We Missed It March 2, 2012
Americas Rural, Urban Wild And Free March 3, 2012
Quality Art and Photography March 3, 2012
Natures Paintbrush March 4, 2012
Gems March 5, 2012
Canadiana March 6, 2012
Animal and Bird Photography March 10, 2012
This That and The Other Thing Group March 10, 2012
Rural Around The Globe March 10, 2012
Playful & Photogenic Animals March 12, 2012
The Fabulous Prairies March 18, 2012
Closeups In Nature April 2, 2012
Americas Rural, Urban Wild and Free April 6, 2012
Wild Nature Photography April 7, 2012
The Best Of Anything And Everything May 26, 2012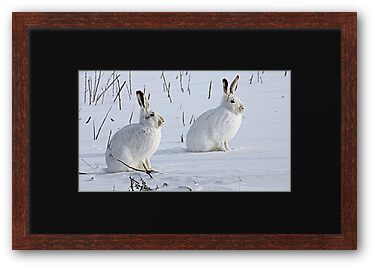 Taken from our balcony . They were enjoying the sun while avoiding a dog owner and their dog. So white! My bonus.
Snowshoe Hare
The snowshoe hare (Lepus americanus), also called the varying hare, or snowshoe rabbit, is a species of hare found in North America. It has the name "snowshoe" because of the large size of its hind feet and the marks its tail leaves. The animal's feet prevent it from sinking into the snow when it hops and walks. Its feet also have fur on the soles to protect it from freezing temperatures.
For camouflage, its fur turns white during the winter and rusty brown during the summer. Its flanks are white year-round. The snowshoe hare is also distinguishable by the black tufts of fur on the edge of its ears. Its ears are shorter than those of most other hares.
In summer, it feeds on plants such as, grass, ferns and leaves; in winter, it eats twigs, the bark from trees, and buds from flowers and plants and, along with the Arctic hare, has been known to steal meat from baited traps. Hares are cannibalistic under availability of dead conspecifics, and have been known to eat dead rodents such as mice due to low availability of protein in an herbivorous diet. It is sometimes seen feeding in small groups. This animal is mainly active at night and does not hibernate.
The snowshoe hare may have up to four litters in a year which average three to eight young. Males compete for females, and females may breed with several males