Canon Rebel XSI, Lens Canon 100mm – 300mm
Lakeside Outside Banff, Alberta Canada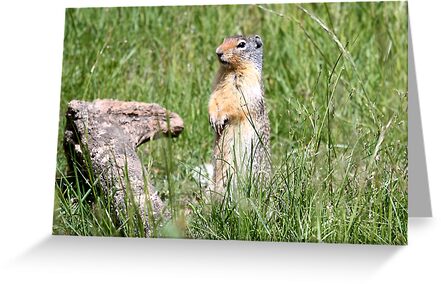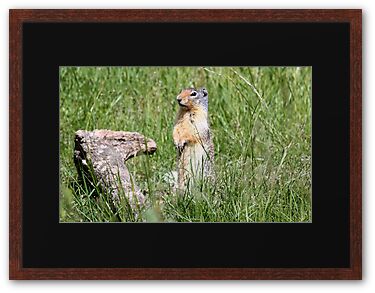 This cute little fella was really checking us out as we were snapping scenery pictures. He just couldn't figure out what we were doing.
Facts about this animal
The Columbian ground squirrel is a typical souslik. It is mostly grey; underparts are yellow-orange. It has a bushy tail which has a length of 8-12 cm. Total length is: 30-40 cm and it weights from 350 to 800 g (depending on season).
They live in large colonies. Both males and females are territorial. Males defend a small core area within their home range, trying to keep other males from access to females. Females defend areas where their nest burrows are located. Both sexes mark their territories with scent glands located at the edge of the mouth, side of the head, and back.
Interesting facts about their hibernation are that they hibernate for seven to eight months of the year (hibernation) and do not awake to eat stored food during their hibernation. The reproduction season is shortly after hibernation. After a gestation period of 24 days the female gives birth to, in May or June, to one litter of 2–7 young (average 3 or 4).
The Columbian Ground Squirrel eats a wide variety of food, including grasses, plant stems and leaves, seeds, bulbs and tubers, insects, birds and other small vertebrates