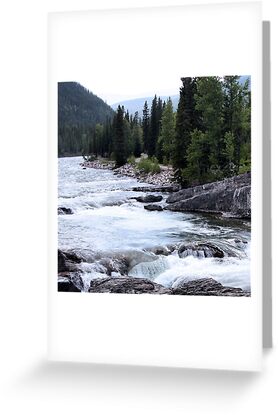 A guided day tour by Francois a Calgary Photographer took us to the Elbow River and Falls. This scene just captured my heart.
Kananaskis Country, Alberta Canada
Canon Rebel XSI, Lens Canon 100mm – 400mm
Thanks To Wikipedia
The Elbow River is a river located in southern Alberta, Canada. It flows from the Canadian Rockies to the city of Calgary, where it merges into the Bow River.
The Elbow River is popular among canoers, rafters, campers and hikers and runs through several features including Allen Bill Pond, Forgetmenot Pond, and Elbow Falls.
The Elbow River originates from Elbow Lake in the Elbow-Sheep Wildland Provincial Park in the Canadian Rockies, then continues through the Rocky Mountain foothills and flows into the hamlet of Bragg Creek. The Elbow River passes under Highway 22 and then travels through the rural community of Springbank and the Tsuu T'ina Nation 145 Indian reserve directly west of Calgary.