June 9,2011

June 10, 2011


June 10, 2011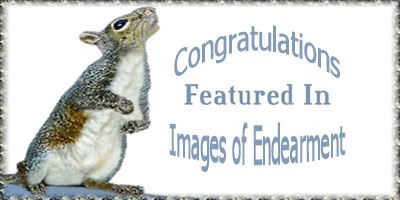 June 11, 2011

June 17, 2011

June 22, 2011
"VIEWS 465 March 20, 2012"
This little fellow graced our bird feeder for a day and I was able to catch a few shots of him. This was my one good shot of him dry , the others were taken in the early morning and he was soaking wet. He did not go any higher then about 3 to 4 feet up the trees and stayed mostly on the ground. He did appear to be healthy and was eagerly eating like all squirrels do. There were other red squirrels about his size at different times during the day and I figure Mom booted everyone out of the nest as they do a second breeding in late June. He is obviously not an albino as he has natural eye coloring and a black nose and paws but somewhere his coat color is a genetic recessive gene. It was amazing to watch him with with his coloring move about as you almost were doubting what you were seeing. Nature never ceases to amaze.
Taken at our home south of Sherwood Park, Alberta, Canada
Canon XSI, Canon 100 – 400 mm Lens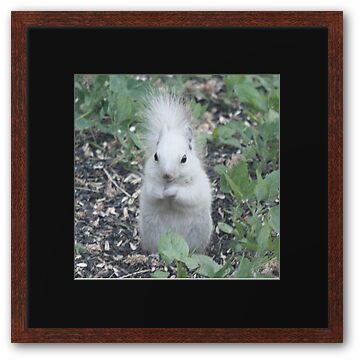 What I have found on white squirrels all goes to either more exotic species on tropical type climate islands or albino colonies in a couple of locations in the states. I have not come across any data in our area period. :>)) Leslie
Silver and his Red /Brown Siblings which we have also seen are from the following described Group of Squirrels
The Red Squirrel is basically a tree-dweller, ranging widely across Canada. In Calgary, they are mainly found in coniferous woods along our river valleys — although a few can be found in residential areas that are well-treed with conifers. More readily heard than seen, they often scold trespassers, whether members of their own species or humans, passing by. They usually sit and chastise us from a horizontal branch 3-6 metres above ground, their bushy tail held upright against their back. Their reddish-brown fur readily distinguishes them from the larger Eastern Gray Squirrel introduced to Calgary in the late 1930s.
Unlike ground squirrels which hibernate, Red Squirrels are active throughout the entire year. During autumn, each is provident by cutting off and gathering many thousands of conifer tree cones, often while still green, which are stored in great mounds above, or sometimes below, ground, as a winter food supply. Also gathered are mushrooms and tree fruit (apples, etc.), which they dry by stashing in trees until dehydrated and ready for storage. Before winter sets in, they fill a tree cavity or an old magpie or other birds nest with shredded bark and other fine, soft, insulating material for their sleeping quarters. Some may use underground shelters, often amongst the massive midden heaps of the scales of the White Spruce or Douglas-firs cones that they have shucked off to get at the nutritious seeds. To get to their food source, they readily tunnel through the snow.
Red Squirrels mate in early spring, producing two to seven naked, blind helpless young some 35 to 38 days later. They normally mate again in late June with a second brood born by early August. The first brood is usually reared in a tree cavity. The second one is often raised in a drey (a leafy collection of green twigs, which provides a more air-conditioned site). The eyes of the young open by the time they are five weeks of age. They are weaned at seven to eight weeks and feed away from their birth-shelter at ten weeks, dispersing at about 18 weeks. They are sexually mature by the following spring. Few survive for more than two years, but the odd one may reach nine years in the wild and ten in captivity. A major predator is the Marten, a member of the Weasel Family. It seldom reaches Calgary. These agile, lightning-fast mammals pursue the Red Squirrels through the trees, at least in the foothills and northern Alberta forests. Coyotes, Red Fox and Lynx manage to catch a few. Others succumb to the hunting prowess of Northern Goshawk, Red-tailed Hawk and Great Horned Owls.