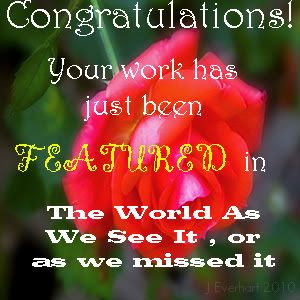 This beautiful Ruffed Grouse came into the feeder for his regular afternoon feed only to find that our new kitty was out at that back. Of course she saw him and couldn't believe her eyes. She sat and watched as he contentedly ate his fill of seeds and then suddenly decided to take him on. Of course he simply flew up and nestled in the tree above him until she walked away wondering where he had got to. Them he glided down and calmly walked away on his regular path.
*The Ruffed Grouse is frequently referred to as a "partridge". This is technically wrong—partridges are unrelated phasianids, and in hunting may lead to confusion with the Grey Partridge, it is a bird of woodlands
Ruffed Grouse have two distinct morphs, grey and brown. In the grey morph, the head, neck and back are grey-brown; the breast is light with barring. There is much white on the underside and flanks, and overall the birds have a variegated appearance; the throat is often distinctly lighter. The tail is essentially the same brownish grey, with regular barring and a broad black band near the end ("subterminal"). Brown-morph birds have tails of the same color and pattern, but the rest of the plumage is much browner, giving the appearance of a more uniform bird with less light plumage below and a conspicuously grey tail. There are all sorts of intergrades between the most typical morphs; warmer and more humid conditions favor browner birds in general.
The ruffs are on the sides of the neck in both genders. They also have a crest on top of their head, which sometimes lies flat. Both sexes are similarly marked and sized, making them difficult to tell apart, even in hand. The female often has a broken subterminal tail band, while males often have unbroken tail bands. Another fairly accurate sign is that rump feathers with a single white dot indicate a female; rump feathers with more than one white dot indicate a male.*
Taken on The ACREAGE in Sherwood Park, Alberta,Canada
Canon XSI Canon 55mm-400mm