Sold on 9 May 2013 1 greetings card. A big Thank You to the unknown purchaser for choosing my work.
220 views, 1 favourite, 19 December 2012
Featured in THE WORLD AS WE SEE IT OR AS WE MISSED IT! on 19 December 2012
A collage of boats in Ullapool harbour on the Scottish mainland and various seascapes and beach scenes from the Western Isles (Lewis and Harris), part of the Outer Hebrides archipelago off the North-West coast of Scotland.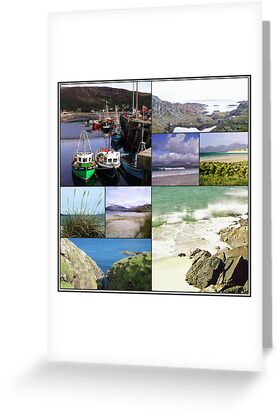 The picture of the boats was taken with a film camera by my son-in-law (used with permission) and the other shots were taken by my assistant, DJ, with his point and shoot camera. The only shot I took was of the long grasses on the far right and I made the collage. Any sales will be shared between my son-in-law and my assistant.