19 December 2011, 528 views, 4 favorites
Featured in "Gems" on 23 May 2011, and in "One Single Flower" on 1 June 2011 and runner-up their in Group Challenge and featured in "Every Little Thing You Do" on 1 February 2013 and in '"Addicted Photographer" on 5 February 2013
A macro shot of a beautiful, fragrant 'Orange Wildfire' miniature rose growing in our garden in the North-East of England, after a shower of rain – edge-enhanced and set against a dark background in a reflection frame.
Enjoy the singing of in "Raindrops Keep Falling On My Head"!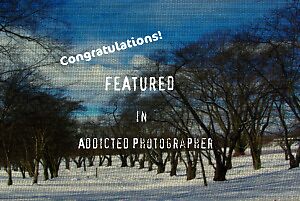 /work.4930819.1.mtd,375×360,n,s,RmVhdHVyZSBCYW5uZXItT25lIFNpbmdsZSBGbG93ZXIgZ3JvdXA%3D,ffffff.jpg!