Ayers Rock, also referred to as Uluru, is a large sandstone rock formation in the Northern Territory of central Australia.
The red desert soil and desert vegetation, both typical of Australia's outback, can be seen in the foreground.
Uluru is a part of the Uluru – Kata Tjuta National Park and is listed as a World Heritage Site. It is one of Australia's most recognisable natural icons.
Uluru is an inselberg, literally "island mountain", an isolated remnant left after the slow erosion of an original mountain range.
Link to my Calendar of Australian Landscapes
Canon G12, as is.
Challenge Winners
'Outback Australia' – Oct 2011
'Northern Territory' – Oct 2011
Featured
The World As We See It – Sep 2011
Colour and Light – Sep 2011
Wild Nature Photography – Oct 2011
Hidden Talent – Oct 2011
National Parks of Australia – Oct 2011
Superbly Visual – Oct 2011
Outback Australia – Oct 2011
Alphabet Soup (V) – Nov 2011
Applied Imagination – Apr 2012
Featured For A Challenge – Jun 2012
Australiana Challenges (Outback) – Aug 2012
Wild Oz – Jul 2014
101 views at 14/10/11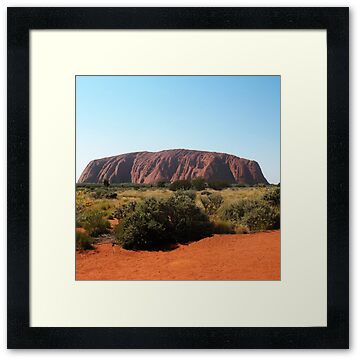 Another clickable view: