This unusual eroded hill, known as the 'Sugarloaf', is at Hallet Cove on the South Australian coast.
The photo depicts two different coloured rock strata (separated by an unconformity). The layers have been weathered by rain and wind over the centuries.
A brown layer of clay sits on top of weathered white glacial sediments, believed to be 280 million years old. Beneath this is a layer of red silt and sand containing larger dropstones.
This area is significant for its geological rock formations and ancient glacial activity. The formations are now incorporated into the Hallett Cove Conservation Park.
Hallet Cove near Adelaide, Australia.
Mamiya ZM Film camera.
Challenge Win
Mother Nature's Sculptures – May 2011
Featured
Volcanoes, Earths Geology & Atmosphere – Apr 2010
Image Writing – May 2010
From the Earth – Jun 2010
1 Artists of Redbubble – Aug 2010
Landscapes of our World – Nov 2010
South Australian Artists – Jan 2011
Islands of the World – Apr 2011
Cee's Fun Artsy Friends – Apr 2011
The World As We See It – May 2011
The Catraven – May 2011
'Explore' Featured Photography – Dec 2011
Australiana Challenges (South Australia) – Feb 2012
Art of South Australia – Mar 2012
Featured For A Challenge – Jun 2012
Aplhabet Soup – Sep 2013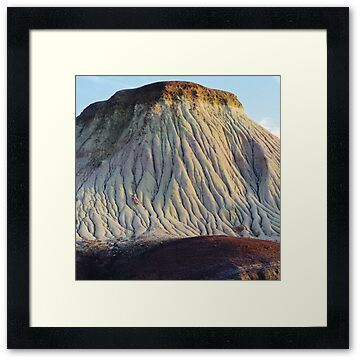 101 views at 1/5/10
500 views at 9/5/11