It was a balmy summer evening. I was visiting relatives on the NSW south coast. We couldn't resist…a swim. Perfect!
The setting sun created some interesting colours in the sky and on the clouds, which in turn was reflected along the shoreline.
Today I am thankful for beautiful sunsets.
This image was captured at the beach near Bawley Point, NSW, Australia.
Canon 400D.
Sold
Greeting Card – May 2010
Challenge Winners
'Freedom Within Nature' – Jun 2010
'Beachscapes' – Aug 2011
Featured
Photography Challenge Group – Jun 2010
4 Winners Only – Aug 2010
Featured Photographers – Aug 2010
Photography Challenge Group – Aug 2010
The Best of Red Bubble – Sep 2010
'Explore' Featured Photography – 15 Feb 2011
Tuesday Afternoon – Feb 2011
Australiana Challenges (Dusk) – Mar 2011
Colours of the Wind – Apr 2011
Just Fun – Jun 2011
Australia At Large – Jul 2011
Australiana Challenges (Beachscapes) – Aug 2011
A Moment In Time – Aug 2011
Featured For A Challenge – Aug 2011
The World As We See It – Aug 2011
That 70s Shot – Aug 2011
Temporary Host Helpers – Jan 2011
Featured For A Challenge – Jan 2012
The World As We See It – Oct 2012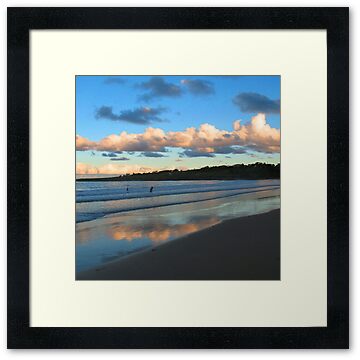 102 views 28/4/10
500 views at 1/12/10
1005 views at 24/6/11