A solitary old twisted tree skeleton stands on ancient rocks at Kings Canyon in Watarrka National Park, Northern Territory, Australia.
This photo was taken on the 6km Kings Canyon Rim Walk. There are a few steep sections but it is a beautiful walk around the gorge. By the end I felt a little like this tree!
Mamiya ZM film. as is.
Challenge Winners
'Feeling Hot, Hot, Hot' – Jun 2010
'Countryside in Drought' – Jul 2010
Featured
Nature Photography Challenge – Jun 2010
Earth and Heavens – Feb 2011
The World As We See It – May 2011
Four Letter Word (Tree) – Jul 2011
'Explore' Featured Photography – Mar 2012
The World As We See It – Apr 2011
Australiana Challenges (Northern Territory) – Apr 2012
Alphabet Soup (T) – May 2012
Featured Photographers – Oct 2012
Featured for a Challenge – Apr 2013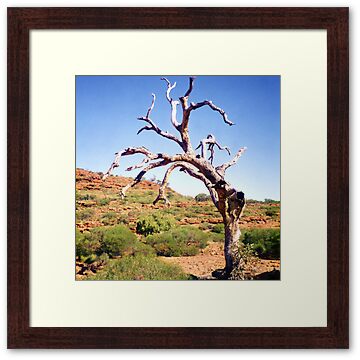 100 views at 21/5/10
503 views at 20/5/11
1000 views at 3/3/12