I took a photo of this mural on the side of a building in the historic town of Sheffield, Tasmania. It depicts Gustav Weindorfer sitting in his log cabin.
Gustav Weindorfer (1874 – 1932) was an Austrian-born Australian amateur botanist, lodge-keeper and promoter of the Cradle Mountains National Park.
Gustav kept numerous journals describing his experiences at Cradle Mountain. He wrote the following passage in 1918. This scene described at the lodge indicates his love for all creatures and his connection with the environment:
'When the ground is all covered with snow,
I do build a big fire, open my door, seat myself very, very quietly in front of the blazing logs
and presently they come in one by one,
the wild animals without their usual fear of man, or one another,
and share with me in stillness,
the grateful warmth"
(1918)
Mamiya ZM film camera.
Sold
Photographic Print (Medium) – Jul 2013
Featured
It's What Moves Me – Feb 2011
Inspired Art – Feb 2011
The World As We See It – Jun 2011
Australiana Challenges (Paintings) – Mar 2012
The World As We See It – Apr 2012
506 views at 20/8/11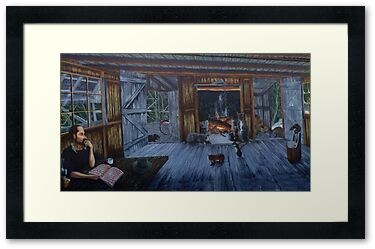 206 views at 23/2/11