Love Padlocks – Cinque Terre
SOLD a Small Photographic Print (271mm x 203mm) – Lustre finish
For Valentine's Day – February 14th.
Love padlocks are a custom by which sweethearts affix padlocks to a fence or similar public fixture to symbolize their love.
Perhaps the most famous example in Italy takes place on the Via Dell'Amore, a path connecting the towns of Manarola and Riomaggiore in the Cinque Terre. The pathway's legend holds that it was a meeting place for lovers from the two towns, and is now a favourite site for tourists to place their locks and throw the keys into the sea.
Cinque Terre, Italian Riviera in the Liguria region of Italy.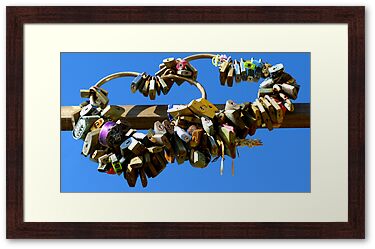 Canon PowerShot A650 IS
Shutter Speed: 1/400sec
Aperture: F4.0
ISO: 80