Floral Emblem of Tasmania
Favourited by 32 People – 6486 Views – 21.12.2013
Whilst touring Tasmania's coast, I was fortunate to come across a beautiful Eucalyptus tree laden with these gorgeous flowers!
NINE (9) Features: Artists Universe, Flower and Foliage Detail, Petals and Pollen, It's in the Detail, Closeups in Nature, Colour Me a Rainbow – White, Featured for A Challenge, Enchanted Flowers and Featured on the Home Page – 31.05.09
Eucalyptus globulus is one of the most widely cultivated of Australia's native trees. It can be found in parks and gardens in many parts of Australia and is well established overseas (eg. Algeria, Brazil, France, India, Spain and Portugal).
Tasmania blue gum – E. globulus; found in eastern and south-eastern Tasmania, as well as in the islands of Bass Strait. It also occurs in southern Victoria; flowers occur singly in the leaf axils; rough bark usually retained at base of trunk. It is the floral emblem of Tasmania.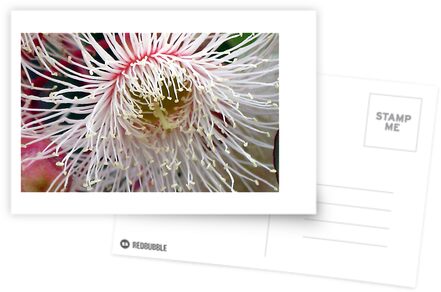 Canon PowerShot A650 IS
Shutter Speed: 1/250sec
Aperture: F4:8
ISO: 200