Update:
Mind The Gap seems to be one of my most popular T-Shirts, however it is also one of my early works and as such is not the cleanest design.
Since so many people like it I decided to do it justice by cleaning up the original and making some alternative versions
I recommend Version 2 over this original since it can be used on T-Shirt colours other than black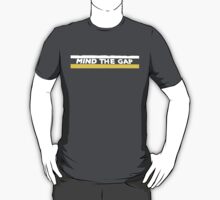 There are also monochrome versions:
Mind the gap is a warning to train passengers to take caution while crossing the gap between the train door and the station platform. It was introduced in 1969 on the London Underground.