© Kell Rowe 2011.
Blackcurrant Photography
Miniature daisies photographed with a Sigma 50mm macro lens. These little flowers are actually a groundcover weed, currently taking over my lawn! PLEASE CLICK THE IMAGE FOR A CLEARER VIEW.
Purchase of this image does not transfer copyright and images are not intended for resale.
Greeting card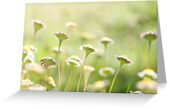 Laminated with white border

Laminated with black border