Acrylic Painting
120 × 96cm
Painted on Vintage Fabric
Sealed with Rabbit Skin Glue
Finished with Acrylic Varnish
Heavy frame
I was inspired by the fabric I painted on which I found in an antique store, colour blue and this girls beauty and she contemplates her love. Is it the love of her guitar or is it the love of someone real.. We don't know, but she has love in her face.
31 favoriting in one week
On sale at the Mount Eliza Art Show coming up October 2010.
Sale Price $950
I consider this my best ever!
218 VIEWS on 21/6/10
Cant afford the painting…well buy it in a card…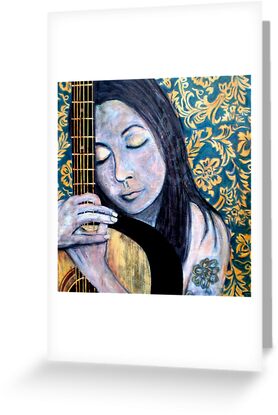 or a print….