Acrylic and Oils
120 × 92
(Pick Up Only) or in this years Pink Lady Exhibition, October 2010
EXHIBITING IN THIS YEAR'S PINK LADY EXHIBITION 2010 IN OCTOBER

1673 Views
This is in colloboration with kimangeline
Her photograph is called "now I lay me down to sleep ":http://www.redbubble.com/people/kimangeline/art...
Girl with a Guitar in a Landscape was originally painted in oils and sold to a redbubble member. I have spent the last month re-painting this picture for an up coming art show. The first Girl with Guitar sold for $500 and this one will sell for $600 (pick up only).
I am really excited about this work. I didn't think that I could paint it again. Not just because of the size of the canvas but because the first one so good, how on earth was I going to do it again!
Well, its finished now and I have to say I love it JUST as much as I did the first one. The first one was hard to part with and the second one will be also.
IDEA OF SCALE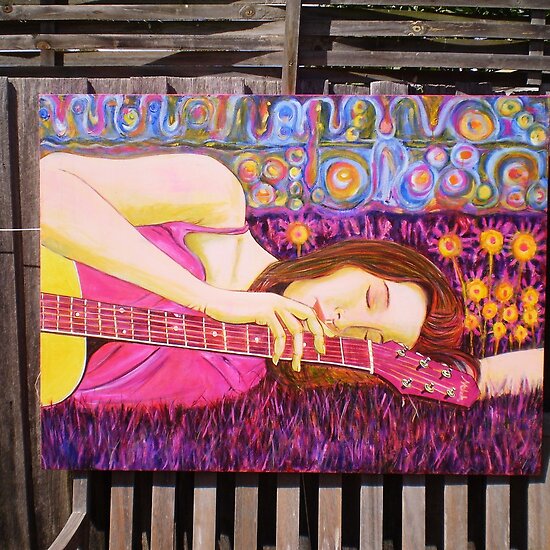 I will post links to the original photograph soon and to the model who posed for me. Give me a little time to do so.
Meanwhile, I would love to know what you think of the pallette I have used this tiime around.
Girl with a Pink Guitar will be shown at the Peninsula Art Show which opens April 1st in Rosebud this 2010.
Thanks Billy