The big view isn't enough… go HERE and use the slider thing on the left to zoom in, then move the mouse with left click held down to check out the bats !
All image processing done in CS3.
3579 views, 110 faves, 52 features, 20 challenge wins, more late nights than I care to remember – February, 2014

April 2013 Juried Invitational Exhibition
FEATURED IN:
✦ Altered by Imagination ✦ (bless you Rhonda & Polly for being amazing :-) ♥
Art Universe – Halloween gallery (cool!)
Artists Universe – Artist of the Month (:-))
Sci-Fi Group
The Group
Artist on Facebook
Original Entities
Superbly Visual
Love of Eerie and Enchanted Artwork
Exquisition
In One's Mind's Eye
Props 2 Props
A Class Of Its Own Art Gallery
Art For Sale
Back in Black
Top Favorites
Vibration in Art and Verse – VAVoom!
Creation
Fantasy Art
HDR Photography
Favourite Fantasy Creations
All In Editing (featured artist ♥)
Muted
Digital Art Compilations :-(x)
Exaggerated Emotions
The Grunge Art Gallery
The Virtual Museum ♥
Far Out Digital Art
Challenge Winner's Vault
Creative, Talented and Unknown
Shameless Self Promotion
All Things Twin
Digital Art At Its Best
The Best of Anything and Everything
Avant-Garde Art
RedBubble Boomers
Fantasy and Mystical Things
Witches, Wizards and Warlocks
Magic Realism and Urban Fantasy
Solo Exhibition
100 %
5
Criminal Minds
Every Little Thing You Do
Inspired Art
Who Are You To Judge?
Surrealism
Wonders and Weirdness of the Universe
Photo Manipulators
Self Taught Photographers
New Dimensions
Creative Images
For the record, there is absolutely no WAY me and my new friend BillyBones were gonna let Halloween pass by without doing a collab.
So I went back through my pictures from a photo shoot I did last spring at a medieval castle in Beersel that's only a stone's throw away from home (don't know why I waited 46 years to get pictures of that AMAZING place)…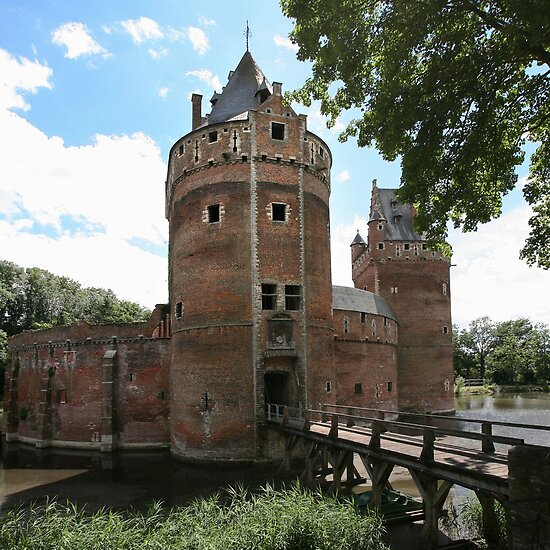 There's a torture chamber that's not easy to find in the myriad of stairways and turret rooms that looked like it would suit, so I asked Bones what he thought of the idea and he just dropped his jaw and said "far-fukkin'-OUT!!"
So we did some shots outside on the patio and in the bedroom in different positions so I'd have options for positioning him in the montage. He was pretty cooperative but got a bit pissy when I told him he wouldn't get paid. I just told him there was no budget and that seemed to shut him up…
At first I didn't have a clear idea of what the finished image would be, though the scenario started to evolved as I tried different set ups. Fact is, when I visited that eerie chamber, it was hard not to imagine and actually feel the anguish of torture and executions that happened there in ages past. So I went with that and added some extra elements (like the sword and bondage rings on the walls) to reinforce the story line.
But there was something missing… maybe bats flying round overhead? Of course they needed to be skeletal too, so I searched Google for royalty free bat skeleton images and was totally blown away to find so many to choose from !!
It took absolute ages to isolate all the bones (and that goes for BillyBones' as well) from the background images and to position everything and balance the lighting of all the elements. But in the end, and in my own distorted and characteristically bent way, I felt it was worth it.
I don't know how many it's ultimately gonna appeal to, but it's my heart felt tribute to my favorite event of the year…
Happy Halloween !!!
THE ELEMENTS
Started with an HDR composite of 3 exposures from the torture chamber. Used Photomatix to control the wide dynamic between sunlight through the windows and extreme shadow…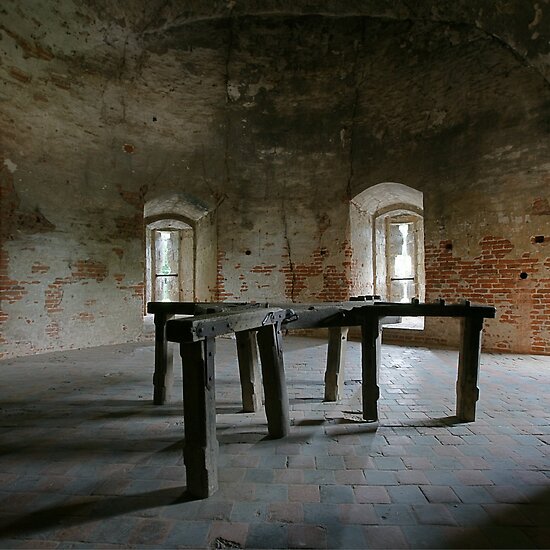 Here's some of the results from my photo shoot with Mr. Bones (I DID tell him to keep his gob shut… but then thought maybe it would pan out, which it did. Thank God his English sucks!)
Unfortunately his rigor mortis is such that I can't turn his hands to any position I want so they needed to be shot separately to get required position (for deadtime prayers for example)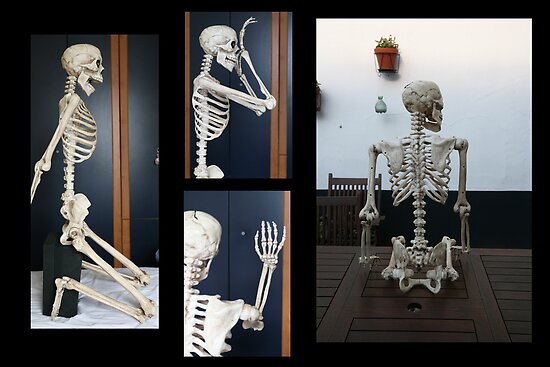 The sword was my dad's from his amazing collection of cool stuff… think he got it when he was a cadet at VPI military academy in Virginia (the bears are another story for another time… :-) The bondage rings were shot at the entrance corridor to the recording studio where I work. Was originally a 19th century factory and they used them to tie the horses. Before executing them at dawn…:-))
… and then there's the batz…
There's no easy way to isolate bones from background, even when the background is all the same color. You just need selection tools and a versatile pallet of eraser brushes. And LOTS of patience.
Having removed the backgrounds, I put them each in a separate layer of a new black background. Of course I needed to add some motion blur… hey, they WERE actually in flight, yeah?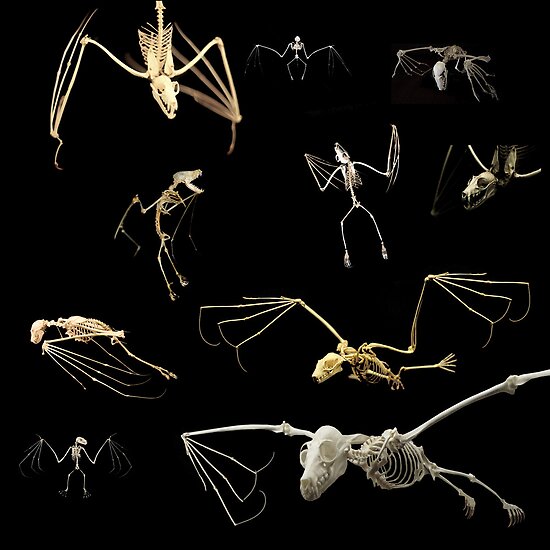 If you got to the end of this description, bless you for your support.
And even if you didn't, I hope Halloween this year (and every year) is all and more than you hoped it would be :-))
CHALLENGE WINS:
Amateur Photographer's Association – Monster Mash
Far Out Digital Art – Scariest Halloween Challenge
Magic Realism and Urban Fantasy – This Is Hallowe'en
Halloween – This Is Halloween
Exquisition – Halloween Challenge
Top Favorites – Halloween Quick Challenge
All In Editing – Spooky and Scary for All Hallos Eve
Creative, Talented and Unkown – New Work
Freedom in Words and Art – Portal of Your Imagination
Sci-Fi – Once Upon A Time In Another Universe
Freedom Of Expression – Artists' Choice
Magic Realism and Urban Fantasy – This Is Hallowe`en
Halloween – Skeletons
Bubbling Artists – An Undiscovered World
Halloween – Skeletons
Far Out Digital Art – Avatar Challenge
Pixellations – Perfect Pixellations
Digital Art Compilations – October Spooky Avatar Challenge
New Dimensions – Boo!
Amazing Challenge Entertainment – Manipulated Images
CHALLENGE TOP TEN:
Fantasy and Mystical Things – The Creepy Challange (2nd)
The Group – Haunting Halloween
Art For Sale – Halloween
Love of Eerie and Enchanting Artwork – Halloween Challenge (2nd)
Artists Universe – Halloween Madley
Zingers – Zinger of the Month for October
Sci-Fi Group – Where No One Has Gone Before (2nd)
Light In The Darkness – Your Best of 2012
Artists Universe – Dark Gothic Art
Muted – Avatar Challenge
Amazing Challenge Entertainment – Manipulated Photography
Fantasy and Mystical Things – Ghosts or Spirits
Back In Black – Best in Black
Ceation – Halloween Challenge
Just Fun – Halloween
Layered Up – Halloween is With Us
Art and Photography Showcase – Haunted Places
Halloween (All Year) – My Choice
BAT SKELETON CREDITS
Yup, first time I ever used other than my own photos…
"Halfanesey":http://www.flickr.com/photos/35071522@N00/ at Flickr (cheers mate, you make bat bone attitude rock!)
"Bre Pettis":http://www.flickr.com/photos/bre at Flickr
"Ryan McJunkin":http://ryanmcjunkin.com/ at ryanmacjunkin.com
"Markus Nolf":http://www.thinkoholic.com/about/ at thinkaholic.com
"Jack Of Nothing":http://www.flickr.com/photos/stuhorvath/ at Flickr
"iwouldificould":http://www.flickr.com/photos/99411713@N00/ at Flickr